Bauer Nexus 1N Ice Hockey Skates Sr

PRICE: $949.99

Free Shipping!

Lowest Price Guarantee
view large
360 View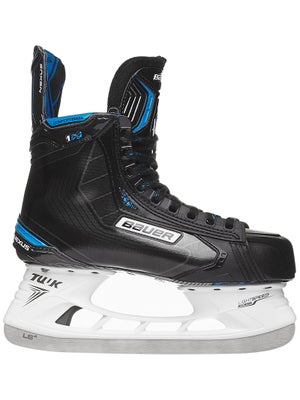 The Bauer Nexus 1N Skate is the most explosive skate from any Nexus or FlexLite family to date. For the first time in Nexus, Bauer utilized their signature one-piece lacing system that not only improves forward flex by 33% but it also improves stability and energy transfer through each stride.
Internally, the 1N follows suit by showcasing the 37.5 polyester liner. The 37.5 microparticles are integrated into the polyester and they work to not only wick away moisture, but it actually uses a player's body heat to evaporate it too! Also on the liner are high-frequency wear pads and Comfort Edge wraps that alleviate high ankle abrasion and significantly improves the liner's overall lifespan.
Carrying over from the previous 8000 is the full Curv composite quarter package that provides some of the best stiffness on the market. Due to the unique design of the composite, it is also one of most lightest and heatmoldable materials around. Aiding in comfort and weight reduction is the 52 oz & 40 oz hybrid black felt tongue. Unlike last year's 8000, the 1N features a Curv composite metatarsal guard instead of plastic.
Down below, the Bauer Nexus 1N skate has a full composite outsole that is vented to aid in moisture management. Sitting just on top of the outsole (and inside of the boot) is the revolutionary SpeedPlate foot bed. Showcasing the only orthin-resin technology on the market, the hard plastic-like footbed can be heatmolded just like a boot. This means players now get a true 360 degree custom fit, not just boot side walls and tongue molding. With this exclusive technology, the SpeedPlate improves balance, energy transfer, arch support and heel lock like no other footbed on the market.
Model Number:

1048628

Heritage: Nexus 8000 / 1000
Level Of Play Guideline: Elite
Fit Guidelines: General fit aspects of the Nexus boot are medium-high in volume, medium heel area, medium-wide forefoot and a medium-wide toe box.
Sizing Guidelines: Bauer skates generally fit 1 ½ sizes down from your regular shoe size
Quarter Package:

Premier 3D-Lasted Curv™ Composite

Featherlight design with pro-level stiffness provides speed, power and agility
Anaformable upper allows the skate to heat mold better than traditional quarter packages for a true, 360 degree personalized fit regardless of foot shape

Injected Stability Lacing System

One-piece design reduces weight, increases durability and allows for 33% more forward flex compared to traditional eyelets

Liner:

37.5 Polyester Liner with Total Edge Comfort Patches and High-Frequency Wear pads


37.5 is an advanced material that that utilizes a player's body heat to dry up to 5 times faster than traditional materials; keeping feet cool and comfortable
High-Frequency Wear Pads increases the liner's life expectancy with strategic reinforcement in a high-wear area
Total Edge Comfort wraps alleviates high ankle abrasions that can occur with a stiff boot and aggressive skating

Ankle Padding:
Tongue Construction:

Form-Fit Lite 52oz/40oz Tongue with Curv Composite Metatarsal Guard

Lightweight yet traditional design provides pro-level protection and comfort

Also keeps weight to a minimum and enhances protection for the top of the foot

Skate Laces:

Bauer Nexus Unwaxed Laces

Footbed:

AnaformSpeed Plate with Ortho-resin Technology

The product of cutting edge research and design that enhances balance,improves energy transfer and increases overall agility
Fully thermoformable to precisely fit to the bottom of the foot and skate

Arch-area adapts to the player for personalized support
Heel cup forms for better heel-lock and stability
Marries up the outsole and "footbed" for a better energy transfer

Outsole:

Ultra Lightweight and Vented Composite

Bauer's stiffest and lightest outsole available for pro-level energy transfer and feel
Vents allow hot air and moisture to escape out of the bottom of the boot

Blade Holder and Runner:

Tuuk LightSpeed Edge Holder

Most popular holder in the NHL due to the innovative trigger system that allows broken or damaged runners to be swapped out in seconds
The front and rear posts are 3mm taller than traditional holders, providing one of the most aggressive turning radius' on the market.

Tuuk LightSpeed LS4 Stainless Steel Runners

10' Radius
Pro-preferred height which extends the sharpening life,increases the angle of attack and allows for more custom profiling options
Constructed of Bauer's highest quality of steel, resulting in 10% more hardness compared to LightSpeed LS3 runners

Weight of a Size 9D skate: 811 grams (+42g for a SpeedPlate Footbed)
Other Items to Consider
Similar Items
Bauer Nexus Ice Hockey Skates
Traditional Fit
The Bauer Nexus 1N Skate is the most explosive skate from any Nexus or FlexLite family to date. For the first time in Nexus, Bauer utilized their signature one-piece lacing system that not only improves forward flex by 33% but it also improves stability and energy transfer through each stride.

The Bauer Nexus N9000 Skates are a step down from the 1N's but for the first time in the Nexus Line, this second price point features a full Curv Composite quarter package. Bauer has been using Curv in their premier skates due to the pro-preferred properties it brings to the table. The composite is lighter, stiffer, more durable and better at molding around a player's foot.
The Bauer Nexus N8000 Skates are an ideal choice for intermediate to advanced players who are looking for better support and responsiveness. The Pro-Level Tech Mesh Nylon Quarter Package is not only built with significantly enhanced stiffness but it's also fully thermoformable, reducing break-in time and providing a more personalized fit.

The Bauer Nexus N7000 Skates is the first performance-level skate in the Nexus Line and has the features to back it up. The lowers consist of NHL's most popular holder, the Tuuk LightSpeed Edge, and its quick release trigger system. It attaches to the Injected TPR outsole that works hand in hand with the traditional Tech Mesh quarter package.
The Bauer Nexus N6000 Skates are the entry-level model in the third generation Nexus Line. The Bauer N6000 skate is built with traditional materials for a classic fit and feel. The Lightweight Mesh quarter package provides the recreational or new to hockey players an appropriate level of stiffness and support. The brushed nylon liner offers plenty of comfort while also helping to wick away moisture.