CCM RibCor 42K Pump Ice Hockey Skates Sr

PRICE: $149.99

Free Shipping!

Lowest Price Guarantee
view large
360 View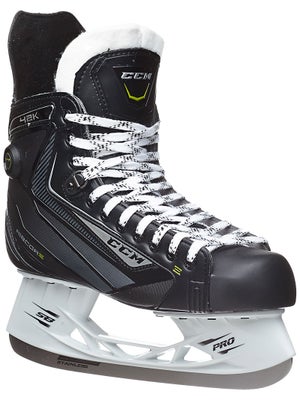 The CCM RibCor 42K Ice Hockey Skates are the first model in the CCM RibCor Line to feature the next generation Pump™ Technology. The Pump™ inflates an internal air bladder located in the heel pocket, providing a tailor-made fit that helps to eliminate negative space while maximizing heel lock.
Working with the Pump™ is the Elite Synthetic quarter package. This new quarter is designed to maintain ample support without being overly stiff for players who are still learning their stride. The two-piece white felt tongue and the Dual-Zone Tricot Liner offer substantial comfort for all sides of the foot.
Model Number: SK42P
Heritage: Reebok 24K
Level of Play Guideline: Recreational
Skate Fit Guidelines: Low Volume / shallow heel pocket - narrow forefoot - low instep
Sizing Guidelines: CCM skates generally fit 2 sizes down from your regular shoe size
Quarter Package:

Elite Synthetic

Provides sound support, stability and forward flexion

Next Generation Pump™ Technology

Inflatable bladder that increases heel lock, provides more ankle support and minimizes negative space
Now more efficient with each pump with a lower-profile design located further back on the boot

Heat moldable

Liner:

Dual-Zone Tricot Liner

Combines comfort and durability while also helping to wick away moisture

Ankle Padding:
Tongue Construction:

Two-piece white felt tongue injected foams

Footbed:
Outsole:

Low-profile, Injected TPR with Exhaust Vents

Stable and supportive
Exhaust vents allow moisture to escape out of the bottom of the boot for dryer feet

Blade Holder and Runner:

SpeedBlade Pro Holder with CCM Stainless Steel Runners

SpeedRibs utilize a triangular design that increases torsional resistance which in turn helps get the most speed and power possible out of the holder
The CCM Stainless Steel Runners are non-replaceable

Weight of a Size 9D skate: 892 grams
Comments: comfortable skate
From: John, MN
Comments: Bought a pair of these for myse. Before I even got home my son had already claimed them. He loves them there a great skate for the price. He really likes the pump feature and how it Sung's them up around your ankles. I will be either be buying another pair for myself or upgrade my sons skates to another ribcor. I definitely recommend
From: Christopher, Davidson, MI
Comments: My oldest son has 42k ribcor's. Surprisingly, they are pretty stiff for an entry level skate... bought him these because he is still growing, but overall, a great skate for the price...
From: Brian, Dearborn, MI
Other Items to Consider
Similar Items
CCM RibCor Ice Hockey Skates
Flexible Fit
The White CCM RibCor 50K Skates are a limited edition run on the successful 50K skate that has been used by the likes of Marian Hossa, David Perron and Matt Duchene. CCM took the RibCor Elite Quarter Package to the next level by strategically stiffening key zones of the boot; providing players with even more comfort, agility and power through each stride.

The CCM RibCor 50K Ice Hockey Skate is the premier model in the new CCM RibCor Line. This 50K utilizes a totally reengineered RibCor Elite Quarter Package; providing some of the best out of box comfort and agility on the market. For the first time in this RibCor Line, CCM utilized a full composite midsole that offers unparalleled support, responsiveness and feel through the foot to the ice.
The CCM RibCor 48K Ice Hockey Skates are a stellar deal for the performance features they come with. The RibCor 48K's showcase CCM's premier carbon fiber outsole for maximum energy transfer, while the SpeedBlack Runners add a stealthy look and can hold an edge longer than traditional steel. The pro-spec tongue has ample foam reinforcement and an integrated lace-bite saddle, providing pro-level comfort and protection.

The CCM RibCor 46K Ice Hockey Skates are an excellent middle-of-the-pack option that boasts comfortable, high-end performance. With its RibCor Flex Plus quarter package and FlexCore inner core, these 46K's are designed for ultimate agility and speed, backed by ultimate comfortability.
The CCM RibCor 44K Ice Hockey Skates are generously priced and come with great features such as the SkateLock™ system, the next generation Pump™ Technology and CCM's flagship SpeedBlade 4.0 holder. The exclusive SkateLock™ system allows players to lace the top three eyelets independently of the bottom set of eyelets for optimal lacing customization.

The CCM RibCor 42K Ice Hockey Skates are the first model in the CCM RibCor Line to feature the next generation Pump™ Technology. This inflatable heel bladder provides pro-style customization, which helps to eliminate negative space while maximizing heel lock.
The CCM RibCor 40K Ice Hockey Skates are the entry level model in the CCM's RibCor Line. These RibCor 40K Skates feature an Elite Synthetic Quarter Package, ideal for the casual skater or new to hockey player. For pro-like comfort and lace-bite protection, CCM included a two-piece white felt tongue with injected foams.