The information below is to be used as a guideline only and
DOES NOT guarantee fit.
Should an item have sizing guidelines provided by the manufacturer, they will be provided for you within the product description next to that item. In other words, if sizing guidelines are seen with the product description online, DO NOT reference the guidelines below.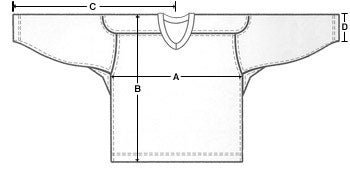 Arm Opening - Goalie Sizes
CCM Jersey Sizing Chart (Inches)
| Sizing | S/M | L/XL | S | M | L | XL | XXL | Goalie |
| --- | --- | --- | --- | --- | --- | --- | --- | --- |
| A | 18.5" | 20.5" | 21.75" | 23" | 26.5" | 28.5" | 29" | 31.5" |
| B | 26" | 26.5" | 28.5" | 30" | 32" | 33.5" | 35" | 32" |
| C | 25.5" | 27.5" | 31.5" | 32" | 33" | 34.5" | 35.5" | 33.5" |
| D | | | | | | | | 14.5" |
Easton Jersey Sizing Chart (Inches)
| Sizing | Jr. S/M | Jr. L/XL | Small | Medium | Large | X-Large | XXL | Goalie |
| --- | --- | --- | --- | --- | --- | --- | --- | --- |
| A | 17.5" | 20" | 21" | 22.5" | 25.5" | 28" | 29" | 30" |
| B | 25" | 26.5" | 28.5" | 30" | 31.5" | 33" | 34" | 31.5" |
| C | 26" | 29" | 31.5" | 33" | 33.5" | 34" | 35.5" | 32" |
| D | | | | | | | | 13.5" |
Tour Jersey Sizing Chart (Inches)
| Sizing | Jr. M | Jr. L | Small | Medium | Large | X-Large | XXL | 3XL/GC |
| --- | --- | --- | --- | --- | --- | --- | --- | --- |
| A | 17.5" | 22.5" | 24.5" | 26" | 26.5" | 27.5" | 28.5" | 30" |
| B | 26" | 26.5" | 28" | 30" | 31.5" | 32.5" | 33" | 34" |
| C | 27" | 29" | 31" | 32" | 34" | 34.5" | 35" | 35.5" |
| D | | | | | | | | 6.5" |
Reebok Jersey Sizing Chart (Inches)
| Sizing | S/M | L/XL | S | M | L | XL | XXL | Goalie |
| --- | --- | --- | --- | --- | --- | --- | --- | --- |
| A | 17.5" | 19.5" | 21" | 22.5" | 23.5" | 26" | 28" | 32" |
| B | 23.5" | 25.5" | 30" | 31" | 31.5" | 33" | 33" | 31.5" |
| C | 26" | 27" | 31.5" | 32" | 34" | 34" | 35.5" | 32.5" |
| D | | | | | | | | 8" |
Vaughn Velocity Goalie Jersey Sizing Chart (Inches)
| Sizing | Jr. Lg | Jr. XL | Sr. L | Sr. XL | Sr. XXL |
| --- | --- | --- | --- | --- | --- |
| A | 22.5" | 24" | 27" | 28" | 30" |
| B | 28" | 29"/ | 31" | 32" | 35"/ |
| C | 29.5" | 31.5" | 33" | 35" | 37" |
| D | 7.5" | 9" | 9" | 10" | 10" |
K1 Jersey Sizing Chart (Inches)
| Sizing | Jr. S | Jr. M | Jr. L | Small | Medium | Large | XLarge | XXL | Goalie |
| --- | --- | --- | --- | --- | --- | --- | --- | --- | --- |
| A | 18" | 19.5" | 20" | 23" | 24.5" | 26.5" | 28" | 29" | 32.5" |
| B | 23.5" | 25" | 25.5" | 29.5" | 31" | 32" | 32.5" | 32.5" | 33 |
| C | 25.5" | 26.5" | 27.5" | 31" | 32.5" | 34" | 35" | 36" | 34.5" |
| D | | | | | | | | | 10.5" |
Learning Center - Jerseys