Hockey glove sizes are broken down into measurements such as 13", 14" and 15". Older hockey gloves the overall length would equal the size of the glove. However, modern hockey gloves have been using shorter cuffs that offer improved mobility. To determine your approximate size you can measure your palm and multiply it by two and that number will roughly be the size glove you should use.
The information below is to be used as a guideline only and
DOES NOT guarantee fit. The chart is not specific to any item or brand.
Should an item have sizing guidelines provided by the manufacturer, they will be provided for you within the product description next to that item. In other words, if sizing guidelines are seen with the product description online, DO NOT reference the general guideline below.
Glove Diagram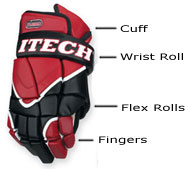 Measuring Guide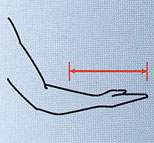 Size & Fit Guide
Gloves should fit like loose winter gloves over the fingers. The top of the glove needs to extend up to the forearm and to the bottom of the elbow pads (except short cuff fit).
The glove should offer freedom of movement in all positions without chaffing or restricting movement. Measure the distance between the fingertips and the elbow pad to determine glove size.
Inches

Centimeters

8"
20
9"
23
10"
25
11"
28
12"
30
13"
33
14"
36
15"
38
Still have questions? Please call 800-366-3070 or email
info@inlinewarehouse.com
Learning Center - Gloves