Sonic SuperSonic Skate Bearings ABEC7

PRICE: $29.95

Lowest Price Guarantee
view large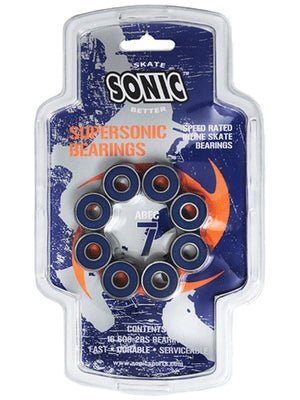 Sonic has helped to keep your bearings clean for a long time. it only makes sense they provide you with the bearings. At ABEC7, this is a solid replacement set for all levels of skaters. Precision honed races, paired with a nylon ball retainer makes for easy servicing if/when needed.
Precision Honed Races & Balls
Nylon Retainer
Deep Grooves for Lateral Stability
Heat Treated Performance & Durability
Blue Non-contact Rubber Seals
Pre-Lubricated Gel
Stepped Inner Races Defend from Dirt & Debris
Serviceable
What's a stepped inner race?
Sonic bearings feature an inner race with a step. The inner step makes it very difficult for dirt and debris to reach the ball bearings. Clean bearings roll smoother, faster, and longer.

On bearings without a stepped inner race, dirt has a direct path to the ball bearings. The stepped inner race adds manufacturing costs but the result is a superior product.
Other Items to Consider