Sonic SuperSonic Skate Bearings ABEC9

PRICE: $39.95

Lowest Price Guarantee
view large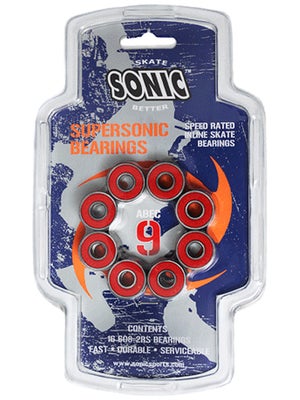 Sonic has been helping to keep your bearings clean for a long time. it only makes sense that they provide you with the bearings as well. At ABEC9, this is a solid replacement set for all levels of skaters. Pre-lubricated with Sonic high-speed gel that runs faster, hotter and longer.
16pk of ABEC9 Bearings
Precision Honed Races & Balls
Nylon Retainer
Deep Grooves for Lateral Stability
Heat Treated Performance & Durability
Red Non-contact Rubber Seals
Stepped Inner Races Defend Against Dirt & Debris
Pre-Lubricated Gel
Serviceable
What's a stepped inner race?
Sonic bearings feature an inner race with a step. The inner step makes it very difficult for dirt and debris to reach the ball bearings. Clean bearings roll smoother, faster, and longer.

On bearings without a stepped inner race, dirt has a direct path to the ball bearings. The stepped inner race adds manufacturing costs but the result is a superior product.
Comments: I really like these bearings. The cover keeps dirt out way better than the bont bearings that came with my skates. I have 400 miles on them and have not had to clean them yet; still spin like new.
From: Rob, Boca Raton, FL
Comments: I really like these bearings. The cover keeps dirt out way better than the bont bearings that came with my skates. I have 400 miles on them and have not had to clean them yet; still spin like new.
From: Rob
Comments: Definitley a good bearing. I'm not easy on my bearings and I've had these for 3 months playing outdoor and indoor up to 4 days a week. Only recently did I clean and re-lube for the first time because they slowed a little bit. For 40 dollars though you could buy a decent set of swiss bearings. Never used them and not sure how they compared but I may be taking that route next time.
From: Andrew
Other Items to Consider