Turbo-Lock Thread Locker 2 Milliliter Tube

PRICE: $2.19

Lowest Price Guarantee
view large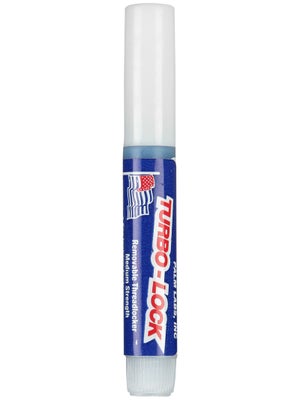 Turbo-Lock Thread Locker is like that of other brands you may have heard of such as Loctite, but at a more economical price. This handy 2mm tube makes for easy application to mounting bolts on skates or even skate axles giving you issues. This is not a permanent application so you'll be able to loosen bolts and axles when wanting.
Handling Cure Time: 10 Minutes
Functional Cure Time: 1 -3 Hours
Full Cure Time: 24 Hours
Ideal for vibration or moving components. Locks and seals threaded joints, nuts, screws, skate axles and frame mounting bolts.
Meets military specifications: MIL-S-46163
Application instructions: Surface should be dry and clean. Apply Thread Locker in sufficient quantity to fill threads. Thread Locker is formulated to give controlled friction and torque/tension ratio during assembly.
Store in a cool, dry place in unopened container between 46-82 degrees.
PRECAUTION: Product is capable of producing adverse health effects ranging from skin irritation to serious systemic effects. Seek medical attention if digested or getting in eyes.
Comments: It may seam like a good deal for less than $2, but please note that this thing is SMALL. So small that IW packages it in a big ziplock bag so that it doesn't get lost in the packing material.
For $2 you get just enough thread lock for ONE pair of skates (8 axles).
From: Klaus, Los Angeles, CA
Comments: Great for crazy skaters like me! Skate screws are always coming lose. Keeps you from having to tighten your wheels every other shift.
From: Brandon, TX