Reebok Official Street Hockey Goal 6' x 4'

MSRP: $145.00

PRICE: $115.95
view large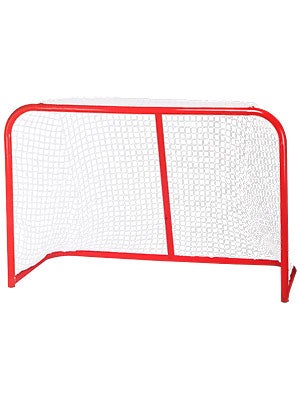 An official sized hockey goal. Constructed of heavy gauge 2" powder coated 2" Steel. Easy to assemble. Size: 6' x 4' Regulation size.
Model Number: ACGOAL72
Recommend Use: For ice players 12 and under and all inline players
Reebok sizing guidelines:
Shipping Note:
Excluded from shipping promotions. Ground is only $7.50 per shipment. Please refer to the Shipping Page for further information. Must ship via FedEx/UPS only - No Postal Service.
Construction:


Heavy guage 2" Steel tubing

Powder Coat finish - Increases durability

Durable mesh net -Replacement netting available

Welded metal net loops - Assures easy net assembly

No tools required for assembly



Comments:It's a great net for it's price. It looks good and gives a satisfying 'ting' every time you hit the post. There are a few negatives though.. First, mine was difficult to assemble. Some of the pieces of pipe didn't quite align properly, making it hard to construct (and deconstruct, though personally I haven't even tried.) Secondly, it's not the best craftsmanship I've ever seen. The welds and overall execution are not impressive, but keep in mind it's a full size metal goal for a hundred dollars.. Lastly, the metal pipes are rather thin, which isn't a problem for street/roller hockey, but I wouldn't dare to rip a puck at it. The net just doesn't seem heavy-duty enough. Also, the upper right & left corners are rounded too much for my taste. It takes away some perfect corner shots. But overall this has been a very good goal. It looks like it'll hold up nicely as long as it's treated well. I'd recommend it to anyone who plans on using it for street hockey, or perhaps younger or very casual ice hockey players who won't pound on it.
From: Austin, Blaine, MN