A&R Hockey Pant Suspenders Sr & Jr

PRICE: $8.99

Lowest Price Guarantee
view large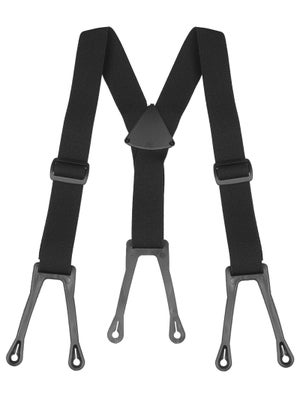 The A&R Hockey Pant Suspenders are your standard hockey suspenders used to help keep ice pants up during play. Features 1.5 inch woven straps and flexible and durable rubber loops. The A&R suspenders will fit with most hockey pants.
Heavy-duty 1.5" woven elastic bands
Sold individually
Durable and flexible rubber loops attach to the metal buttons on most pants
Helps keep pants up during play

Especially helpful for younger kids
Sizes: Suspender size/ Waist measurement
Junior/ 22-30"
Senior/ 32-50"
Senior XL/ 44-60"
Comments: Thought that would be great to keep my sons pants up the rubber broke halfway through the first period. Major disappointment $10 wasted
From: Mike, Seattle, WA
Comments: Functional, had issues with pants always sagging during play no matter how tight I cinched the belt. With the suspenders I play comfortable no yanking up my pants during play, sucks that I waited so long to pull the trigger on the decision to swoop them up!
From: T, Bakersfield, CA
Comments: Nice suspenders....keeps everything in place. Nice & simple.
From: Chris, NY
A&R Hockey Player Accessories