Bauer IMS 7.0 Hockey Helmets w/Cage Custom Colors

PRICE: $149.99

Free Shipping!

Lowest Price Guarantee
view large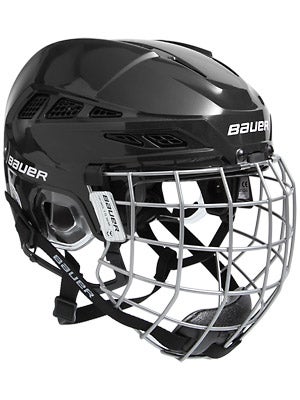 ORDER BY 12/4 FOR CHRISTMAS DELIVERY
Build a unique helmet or build a set of helmets to match your team's uniform perfectly! The Bauer IMS 7.0 helmet with cage is available in 255 color combinations!
To get started building your Custom Bauer IMS 7.0 hockey helmet just click on the Customize Builder banner below. Once at the builder, just click on the color buttons to see all the different combinations. Once you have decided on the look of your custom helmet, just select the colors and size in the drop down menus.
Currently, Bauer is stating custom helmet production time is about 2 weeks. As this timeline is not guaranteed, Bauer and IW process orders daily(M-F) to ensure efficiency. Once built your helmet will be shipped ground directly from Bauer, and arrive in an estimated 3-5 business days. Only available for shipments in the contiguous U.S.
There are no returns or exchanges on custom Bauer helmets.
To expedite your order, please order this item separately. Other items may not be combined with this helmet.
This item will receive free ground shipping. This purchase amount doesn't count toward your dollar amount to earn free shipping on other items.
The custom Bauer IMS 7.0 helmet features the same great design and protection as the normal Bauer IMS 7.0 helmet.
Heritage: Cascade M11
Level of Play Guideline: Elite
Bauer sizing guidelines:


Helmet Size / Hat Size / Head Circumference
XS / 6 1/4 - 6 7/8 / 19.6" - 21.2" (50 - 54 cm)
SM / 6 1/2 - 7 / 20.4" - 22" (52 - 56 cm)
MD / 6 7/8 - 7 3/8 / 21.8" - 23" (55.5 - 58.5 cm)
LG / 7 1/2 - 7 7/8 / 22.8" - 24.8" (58 - 63 cm)

*The Bauer IMS 7.0 helmet sizing guidelines are different from other Bauer helmet guideli
Protection:

Patented Seven Technology™:

Revolutionary Impact technology
Matrix of cylindrical cells absorb impact through lateral displacement
Reduces G-Forces to the brain from a hockey hit by almost half when compared to the typical hockey helmet

IMS 7.0 Facemask

Fit:

ProFit Adjustment System:

Offers a dynamic contour system
Back ratchet latch offers micro adjustments to achieve a 360 degree fit
No tools needed

Central tool free adjustment located at the top of the helmet make it quick and easy to adjust for proper fit

Comfort:


Large customizable ventilation ports to promote air flow during the game
Compatible with most face cages and shields/visors
Custom IMS Helmet Builder
Bauer Elite Hockey Helmets

Bauer RE-AKT 100 Hockey Helmets

The Bauer RE-AKT 100 Hockey Helmet is the most advanced helmet from Bauer to date. Bauer improved on key technologies from the original RE-AKT and combined them with the Seven+ Technology that debuted in the Cascade M11 and M11 Pro helmets. The resulting product is a very comfortable helmet that showcases exceptional linear AND rotational impact protection.

Colors: 5


Bauer RE-AKT 100 Hockey Helmets w/Cage

The Bauer RE-AKT 100 Hockey Helmet with Cage is the most advanced helmet from Bauer to date. Bauer improved on key technologies from the original RE-AKT and combined them with the Seven+ Technology that debuted in the Cascade M11 and M11 Pro helmets. The resulting product is a very comfortable helmet that showcases exceptional linear AND rotational impact protection.

Colors: 5

Bauer RE-AKT 100 Hockey Helmet Custom Colors

The Bauer RE-AKT 100 Hockey Helmet is the most advanced helmet from Bauer to date. It's also available in 21 different shell colors and 24 different vent colors through our Helmet Customizer. Bauer improved on key technologies from the original RE-AKT and combined them with the Seven+ Technology that debuted in the Cascade M11 and M11 Pro helmets. The resulting product is a very comfortable helmet that showcases exceptional linear AND rotational impact protection.

ORDER BY 12/4 FOR CHRISTMAS DELIVERY


Bauer RE-AKT 100 Hockey Helmets w/Cage Custom Colors

The Bauer RE-AKT 100 Hockey Helmet with Cage is the most advanced helmet from Bauer to date. It's also available in 21 different shell colors and 24 different vent colors through our Helmet Customizer. Bauer improved on key technologies from the original RE-AKT and combined them with the Seven+ Technology that debuted in the Cascade M11 and M11 Pro helmets. The resulting product is a very comfortable helmet that showcases exceptional linear AND rotational impact protection.

ORDER BY 12/4 FOR CHRISTMAS DELIVERY



The Bauer RE-AKT Hockey Helmet is the top of the line helmet from Bauer. The RE-AKT helmet has taken protection to the next level with its new free-floating, suspended liner, designed specifically to manage rotational impact. With a Bauer 4500 inspired look, the RE-AKT helmet offers a pro look and level of protection.

Colors: 7

The Bauer RE-AKT Hockey Helmet with Cage is the top of the line helmet combo from Bauer. The RE-AKT helmet has taken protection to the next level with its new free-floating, suspended liner, designed specifically to manage rotational impact. The RE-AKT cage is made out of titanium making the cage extremely light and the oval wires reduce the visual obstruction by 20% over the competitors premium cages.

Colors: 7
The Bauer IMS 11.0 Hockey Helmet is the top of the line helmet coming from the IMS line. This awesome helmet blends a handful of the most protective features and technologies found in hockey to date. The advanced level of protection is provided from the redesigned Seven Technology™ and Poron XRD™ foam.

Colors: 5

The Bauer IMS 11.0 Hockey Helmet with Cage is the top of the line helmet coming from the IMS line. This awesome helmet blends a handful of the most protective features and technologies found in hockey to date. The advanced level of protection is provided from the redesigned Seven Technology™ and Poron XRD™ foam.

Colors: 5
The Bauer IMS 11.0 helmet is available in 255 color options! Perfect for creating that one of kind helmet or matching your team's uniform. Use our helmet customizer builder to see all 255 color combinations.

ORDER BY 12/4 FOR CHRISTMAS DELIVERY

The Bauer IMS 11.0 helmet with cage is available in 255 color options! Perfect for creating that one of kind helmet or matching your team's uniform. Use our helmet customizer builder to see all 255 color combinations.

ORDER BY 12/4 FOR CHRISTMAS DELIVERY

Bauer IMS 9.0 Hockey Helmets

The Bauer IMS 9.0 Helmet combines the best of two worlds, bringing a player a pro-inspired low-profile design with a pro level of protection. Bauer conjoins new school and old school by using the pro preferred VN foam with new PORON® XRD™ foam. Protection has never felt this good.

Colors: 8


Bauer IMS 9.0 Hockey Helmets w/Cage

The Bauer IMS 9.0 Helmet with Cage combines the best of two worlds, bringing a player a pro-inspired low-profile design with a pro level of protection. Bauer conjoins new school and old school by using the pro preferred VN foam with new PORON® XRD™ foam. Protection has never felt this good.

Colors: 8
The Bauer IMS 7.0 Hockey Helmet offers a solid level of protection that improves on the popular Cascade M11 helmet. The IMS 7.0 utilizes a redesigned Seven Technology™ to better manage high and low impacts. With a tool-free shell adjustment feature and a 15 point ProFit™ adjustment tool, this IMS 7.0 will fit a player securely and comfortably.

Colors: 5

The Bauer IMS 7.0 Hockey Helmet with Cage offers a solid level of protection that improves on the popular Cascade M11 helmet. The IMS 7.0 utilizes redesigned Seven Technology™ to better manage high and low impacts. With a tool-free shell adjustment feature and a 15 point ProFit™ adjustment tool, this IMS 7.0 will fit a player securely and comfortably.

Colors: 5
The Bauer IMS 7.0 helmet is available in 255 color options! Perfect for creating that one of kind helmet or matching your team's uniform. Use our helmet customizer builder to see all 255 color combinations.

ORDER BY 12/4 FOR CHRISTMAS DELIVERY

The Bauer IMS 7.0 helmet with cage is available in 255 color options! Perfect for creating that one of kind helmet or matching your team's uniform. Use our helmet customizer builder to see all 255 color combinations.

ORDER BY 12/4 FOR CHRISTMAS DELIVERY

Bauer 7500 Hockey Helmets

The Bauer 7500 Hockey Helmet offers an exceptional value and great protection. Bauer has taken the fit and look of the fan favorite 5500 helmet and put some nice new touches on it. So for those players that liked the fit of the 5500 helmet, they will be happy to find the same fit in the 7500 helmet.

Colors: 8


Bauer 7500 Hockey Helmets w/Cage

The Bauer 7500 Hockey Helmet with Cage offers an exceptional value and great protection. Bauer has taken the fit and look of the fan favorite 5500 helmet and put some nice new touches on it. The 7500 cage offers great vision with the thin wire design and true vision color. The 7500 cage is not as oval shaped as some of the other Bauer cages, and resembles some of the older Itech cages in its shape.

Colors: 8