Bauer Vapor APX2R Roller Hockey Skates Sr

PRICE: $649.99

Free Shipping!

Lowest Price Guarantee
view large
360 View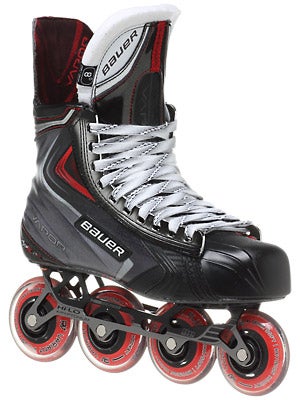 The Bauer Vapor APX2R Roller Hockey Skates are one of the greatest roller hockey skates the market has seen to date. The Vapor APX2R features the exclusive 3D Lasted Curv® Composite Uppers, Injected Stability Lacing System, Hi-Lo™ Aluminized Kryptonium chassis and Revision Variant Plus 74A wheels.
The Vapor APX2R features the signature Vapor X-Rib design in the heel that provides top notch stability and support to help players maximize power in their strides. The 3D lasted Curv® Composite quarter package has a professional level of stiffness and is even more thermoformable than the prior Alive quarters, giving players a true custom fit. The injected stability lacing system is an all new design that is more efficient at transferring energy compared to previous traditional systems and is more durable too.
The Aluminized Kryptonium Chassis is one of the lightest and strongest frames out. The unique steel treatment Bauer used allows them to reduce the amount of material used while maintaining the highest level of durability and strength. The chassis holds Revision Variant Plus 74A wheels; (2) 80mm wheels in the rear and (2) 76mm wheels in the front to position the player in an aggressive stance. Internally, the wheels run on Hi-Lo™ Swiss LE bearings for superior roll.
The Form-Fit 3 tongue is a 3-piece 52 oz. white felt tongue with an integrated abrasion resistant metatarsal guard. The Form-Fit+ footbed with ErgoToe allows for customizable toe protection while assisting in moisture-management and heel stabilizing. The Hydra Max 2 liner with Total Edge comfort helps to wick away moisture and resist abrasions.
Model Number: 1041806
Heritage: Vapor APXR
Level of Play: Elite

Fit Guidelines: General fit aspects of the Vapor boot are low-medium volume, medium ankle area, medium across top of foot and forefoot and medium toe box.

Sizing Guidelines: Bauer skates generally fit 1 1/2 sizes down from your regular shoe size
Quarter Package:

3D lasted Curv® Composite upper with X-rib pattern

Provides a more comfortable and responsive skate with a professional level of stiffness
Thermoformable design allows a true 360° custom fit for any foot shape
The X-ribbed design (seen from looking at the back of the boot) was designed to enhance the performance of the patented Vapor monostructure quarter for unparalleled response and dynamic movement. Developed to enhance key support zones throughout the ankle and foot delivering quicker acceleration and greater stability.

Liner:

Hydra Max 2 Liner

With integrated Total Edge comfort for superior feel

Heel Support:

Patented pro-integrated, anatomical heel and ankle support

Tongue Construction:

Form-Fit 52 oz. 3-piece felt tongue

High-density metatarsal guard

Footbed:


Form-Fit+ with ErgoToe for protection and grip

Offers customizable toe protection, moisture management and a heel stabilizing effect

Outsole:

Full Lightweight Fiber Composite outsole

Advanced level of responsiveness and decreases the overall weight

Frame:

One-Piece Hi-Lo™ Kryptonium Aluminized Frame


Utilizes (2) 76mm in the front and (2) 80mm in the rear

Offers an aggressive angle of attack for agility while maintaining a low center of gravity

While maintaining an extra-light weight, it is extremely strong and durable

Bauer Square Flush Two-Piece 6mm Axles

Wheels:

Revision Variant Plus 74A Wheels

Bearings:

Hi-Lo™ Swiss LE 608 bearings

Weight of a Size 9D Skate:
Comments: Amazing, perfect fit since the first use, very comfortable, ultra light and best response in each movement, you think that your foot and the skate are only one.
The best roller hockey skates that all I used.
From: David, Madrid, Spain
Comments: Sometimes you just find a skate and you put them on and I feel like I'm forgetting something. These skates are the best skates ever made, and I'm really not exaggerating, these are much better than the ac1, unless you have problems about your feet burning, which I have to admit I've never had before, they are much lightly than the alkali's even the max. I've never had a pair of skates that feel so responsive, the wheels just enable you to accelerate so fast and the weight of the boot helps this so much more, the laces going right over the tongue really help. the best way to describe this is the wheels are the same as duct trap, nothing compares to these wheels, not rink rat not ANYTHING. the price is well worth it
From: Chris, London, UK
Comments: This is by far the best skate I have ever had. Very comfortable, very stiff, and very light. The only downside to this skate is the wheels in my opinion. I would have loved for Bauer to put the Labeda Addiction wheels on these. One of the Variant Plus wheels separated from the hub after about my 4th time using them. Luckily I had Addiction wheels from my previous skates I'm using now.
From: Steven Chaloupka, IW
Other Items to Consider
Similar Items
Bauer Roller Hockey Skates Senior
The Bauer Vapor APX2R Roller Hockey Skates are one of the greatest roller hockey skates the market has seen to date. The Vapor APX2R features the exclusive 3D Lasted Curv® Composite Uppers, Injected Stability Lacing System, Hi-Lo™ Aluminized Kryptonium chassis and Revision Variant Plus 74A wheels.

The Bauer Vapor X90R Roller Hockey Skates are perfect for the advanced level player who's looking for an affordable advanced level skate. The X90R features a full fiber composite outsole and an Ultra-Lightweight Tech-Mesh quarter package to provide an elite-level of stiffness and responsiveness.
The Bauer Vapor X70R Roller Hockey Skates offer a great balance of value and performance. The X70R skate showcases Hi-Lo™ Clinger XXX Grip wheels that provide excellent grip while the Abec 9 bearings help to maximize speed. The moisture wicking Microfiber Liner helps to keep your feet dry during the game and decrease drying time at home.


Bauer Vapor X60R Roller Hockey Skates Sr

The Bauer Vapor X60R Roller Hockey Skate features the Vanguard™ Accelerator frame, which is the first one-piece chassis to be used in the Vapor Line. The Accelerator holds Hi-Lo™ HL1 76A Indoor Wheels with Abec 7 bearings, providing players with great grip and speed on indoor surfaces. The Sublimated Tech Nylon quarter package offers a solid jump in stiffness and responsiveness for intermediate level players.
The Bauer Vapor X50R Roller Hockey Skate offers good performance and versatility. The X50R features the Hi-Lo™ Vanguard™ Violater Frame that holds Hi-Lo™ Multi-Surface wheels, allowing them to take advantage of indoor and outdoor surfaces. The Two-Piece White Felt Tongue provides a comfortable feel as well as good protection for the top of the foot.

The Bauer Vapor X40R Roller Hockey Skate is the entry level model in the Bauer Vapor Line. This X40R showcases the signature Vapor X-Rib design that provides stability and support for the entire boot. The Hi-Lo™ frame utilizes Hi-Lo™ 82A outdoor wheels so that these skates can be used on just about any surface.

Sizes Available: 8.0, 9.0