Bauer Reflex Street Goalie Blockers Sr

PRICE: $29.95

Lowest Price Guarantee
view large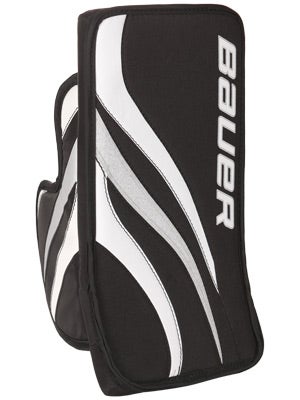 The Bauer Reflex Street Goalie Blocker offers super lightweight protection for recreational street hockey and ball hockey goaltenders. The outer shell is constructed with nylon materials with the Reflex design and logos screen printed on. The blocker board is designed with 1" thick foam reinforced with a plastic insert. Side hand protection, thumb guard and finger flap protection are designed with foam and plastic inserts adding to the overall protection. Bauer's segmented cuff design allows a decent range of motion and can be adjusted with the nylon cordage. Bauer's 1" velcro strap across wrist helps limit blocker twist when making saves.
Model Number: 1037158
Heritage: Bauer Reflex Street
Level of Play: (Senior)

Roller: Up to Recreational Street
Ice:

Not to be used for ice hockey
*Non-certified for ice hockey

Sizing Guidelines:

Senior: 7" - 8 3/8"

Measured from heel of palm to tip of middle finger

Hand Selection:

Regular = Blocker used on the right hand
Full Right = Blocker used on the left hand
*Products carrying a Non-Certified designation do not meet the certification requirements of CSA, HECC and CE.
Exterior:

Reinforced nylon cover
Screen printed design

Interior:
Finger Guards:
Blocker Board:

Lightweight construction
Angled board

Increase wrist mobility
Improves puck deflection

Palm:
Weight:
Comments: Very solid blocker. Mainly used for street hockey. This blocker is very light, yet durable. Also it is comfortable and well padded. For the price it is a steal.
From: Tyler, Aston, PA
Comments: This blocker is great for te price. Lightweight and durable and the wrist strap makes it snug. Palm is a durable material and the padding is awesome as well. Overall great blocker
From: Sam
Comments:The blocker is really nice and lightweight. It has laces on the cuff so you can tighten or loosen depending on your tastes. The palm area on the glove could be alittle thicker but that would be my only complaint. I am very pleased with it and would buy it again.
From: Jeff
Similar Items
Bauer Hockey Goalie Blockers Senior

Bauer Reactor 6000 Goalie Blockers Sr

The Bauer Reactor 6000 Goalie Blocker is handcrafted by JRZ in Canada by hockey professional. The Reactor 6000 blocker offers solid professional level protection and is part of Bauer's top of the line Reactor goalie gear.

Colors: 2

Bauer Reactor 4000 Goalie Blockers Sr

The Bauer Reactor 4000 Goalie Blocker provides goaltenders with advanced level protection and offers similar construction and design as the Bauer's top of the line Reactor 6000. The Reactor line is geared towards hybrid / battlefly style goaltenders that tend to be more aggressive in the net, constantly challenging the shooter.

Colors: 4


Bauer Reactor 4000 Goalie Blockers Int

The Bauer Reactor 4000 Goalie Blocker has been scaled down to fit intermediate goaltenders and offers advanced level protection. The Reactor 4000 goal blocker is designed for goaltenders that are constantly challenging the shooter and are willing to do whatever it takes to make the save.

Colors: 3

Bauer Reactor 2000 Goalie Blockers Sr

The Bauer Reactor 2000 Goalie Blocker features a Hybrid/Battlefly style design thats perfect for aggressive goaltenders that prefer to challenge the shooter. The Reactor 2000 blocker provides protection up to the intermediate levels of play and the lightweight construction optimizes performance.

Colors: 9

The Bauer Supreme TotalONE Goalie Blocker offers professional level protection and excellent durability. The TotalONE is Bauer's premier butterfly style blocker designed to be as lightweight as possible while delivering maximum net coverage as well as goalie protection.
The Bauer Supreme One90 Goalie Blocker offers advanced level protection and materials similar to the Bauer TotalONE. The One90 is designed for the butterfly style goalie, constructed from lightweight yet durable materials delivering maximum net coverage.

Colors: 3
The Bauer Supreme One90 Goalie Blocker offers advanced level protection and materials similar to the Bauer TotalONE. The One90 is designed for the butterfly style goalie, constructed from lightweight yet durable materials delivering maximum net coverage.

Colors: 2

The Bauer Reflex Street Goalie Blocker offers super lightweight protection for recreational street hockey and ball hockey goaltenders. The outer shell is constructed with nylon materials with the Reflex design and logos screen printed on.

Colors: 1