Custom Bauer Reactor 6000 Goalie Leg Pads

PRICE: $1549.99

Free Shipping!

Lowest Price Guarantee
view large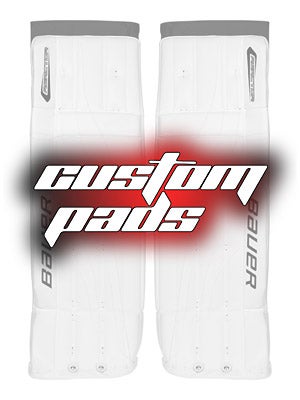 Never settle for goalie gear that doesn't fit your style perfectly. With the Custom Builder, create the unique goalie gear that's perfect for you!
To get started building your Custom Bauer Reactor 6000 Goalie Leg Pads, just click on the Customize Builder banner below. Once at the builder, just click on the color buttons to see all the different combinations. Once you have decided on the look of your custom pad, just select the flex and size in the drop down menus.
There are no returns or exchanges on custom Bauer goalie gear.
To expedite your order, please order this item separately. Other items may not be combined with this purchase.
This item will receive free ground shipping. This purchase amount doesn't count toward your dollar amount to earn free shipping on other items.
Heritage: New
Level of Play:

Roller: Advanced -> Professional
Ice: Advanced -> Professional

Playing Style: Hybrid
Made in Canada
Exterior:

Superior synthetic leather used on the face of the pads

Professional level durability

Stitched Reactor design on face
Embroidered and screen printed Reactor design and logos

Protection:

Lightweight Battlefly style design and construction
Upgraded under-pant thigh protector

Contouring design
Mesh liner for breathability
Removable

Pro Core insert

Face:

Square design at the thigh and boot allows for maximum coverage
Semi flat-face design with squared knee rolls

Outer Roll:

Triangle outside roll
Breaks above, and below the knee as well as at the boot

Inner Roll:

Flat inside glide support for gapless ice contact and stability
Thin profile

Thigh Protector:

Upgraded NHL legal under-pant thigh protector

Contouring design
Mesh liner for breathability
Removable

Knee Stack:

2-piece knee stack design

Inner Layer - Upgraded 1" Thick medium density foam provides additional knee support
Outer Layer - Thin, HD foam inserts provide the sliding surface

Knee Cradle:

Sewn in knee cradle

Pro level knee protection

Lined with Clarino leather

Wicks away moisture
Added comfort

Wrap around protection

Calf Wrap:

Upgraded 3-piece calf wrap design

Prevents straps from rubbing on the leg
Segmented outer flap provides additional protection

Leg Channel:

Clarino lined with soft foams

Additional comfort and impact absorption

3" wide leg channel

Boot Channel:

Leg pad fits directly on top of the skate, allowing the leg pad to sit closer to the playing surface

Straps:

Two thigh guard straps

1.5" elastic velcro strap on upper portion
1" elastic velcro strap on lower portion

Knee cradle
Thigh rise

Two 1" nylon straps around the thigh and knee

Calf / Boot Straps

Two 3/4" leather calf straps
One 3/4" leather boot strap

Toe bridge with laces to secure the fit around the skate

NHL™ Legal Size Pad
Note:

+1" Sizing is standard on the Bauer Reactor 6000

Weight:

5.55lbs (Based on a Senior 34" +1" leg pad)
Bauer Custom Goalie Builder
Bauer Hybrid Goalie Leg Pads
The Bauer Reactor 6000 Goalie Leg Pads offer top of the line professional level protection, quality and performance. Originally released in 1994, the Bauer Reactor line of goalie gear provided goaltenders with functional, innovative designs, laying the foundation for current day goalie equipment.

Colors: 2

The Bauer Reactor 6000 Leg Pads are available in a wide array of colors. The perfect option for a goaltender that wants to stand out from the crowd. Use our goalie gear customizer to build the perfect set for you!
The Bauer Reactor 4000 Goalie Leg Pads offer a completely new design for 2013, replacing the Bauer Reflex line of goalie equipment. Bauer originally released the Reactor line of goalie gear in 1994, offering goaltenders innovative and functional designs that helped create the foundation for many of the goalie products on the market today.

Colors: 4

The Bauer Reactor 4000 Goalie Leg Pads offer a completely new design for 2013, replacing the Bauer Reflex line of goalie equipment. Bauer originally released the Reactor line of goalie gear in 1994, offering goaltenders innovative and functional designs that helped create the foundation for many of the goalie products on the market today.

Colors: 1

Bauer Reactor 2000 Goalie Leg Pads Sr

The Bauer Reactor 2000 Goalie Leg Pads are new for 2013, with the Reactor replacing the Bauer Reflex line of goalie equipment. Since the original release date of the Reactor line of goalie pads in 1994, Bauer's completely redesigned their reactor line providing the right amount of performance and protection.

Colors: 8