Bauer Supreme TotalOne NXG Goalie Ice Hockey Skates Sr

PRICE: $649.99

Free Shipping!

Lowest Price Guarantee
view large
360 View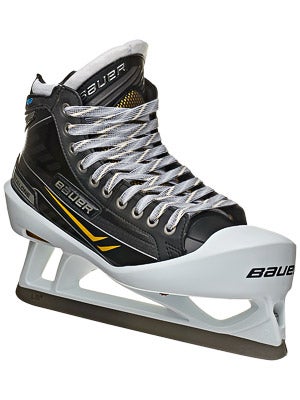 The Bauer Supreme TOTALONE NXG Goal Skate is the premier goal skate from Bauer, introducing revolutionary advancements that drastically improve performance and comfort.
The TOTALONE NXG goal skate introduces the new 3D anaformable Bauer Curv composite boot. The inside of the boot around the ankle is heavily saturated with PORON XRD foam creating an incredibly comfortable feel and increasing impact protection. The new asymmetric design relieves pressure on the lateral side of the boot, allowing a wider stance and reducing pain that occurs on the outside ankle. The Goalie Comfort Edge features a soft foam on the shorter side of the boot, furthering the level of comfort provided for aggressively wide stances that put considerable pressure on the ankle. The NXG features a pro felt tongue and is taller on the inside edge to prevent the tongue from twisting during play.
The VERTEXX 2.0 cowling has a LS2 stainless steel removable runner which is made up of an incredibly high quality steel that holds an edge longer.
The Bauer Supreme TOTALONE NXG goal skate features incredibly innovative designs specifically tailored to the butterfly style, and has an extremely high level of performance without sacrificing comfort.
Model Number: 1043774
Heritage: New
Level of Player: (Senior)
Sizing Guidelines:

Bauer skates generally fit 1 1/2 sizes down from your regular shoe size. Click on

Sizing Chart

for more sizing information.
Quarter Package:

3D Anaformable Curv composite

Liner:
Ankle Padding:

PORON XRD foam

Additional comfort and support

Asymmetric design
Tongue Construction:

Extended Pro felt tongue

Protection against lace bite
Prevents twisting

Footbed:
Cowling/Runner:


Reinforced VERTEXX 2.0 Cowling
3mm LS2 removable stainless steel runner

Weight:
Other Items to Consider
Similar Items
Bauer Hockey Goalie Ice Skates Senior

Bauer Supreme One.7 Goalie Ice Hockey Skates Sr

The Bauer Supreme ONE.7 Goal Skate is a quality goal skate from Bauer designed for the Intermediate level of play, and retains many of the revolutionary advancements from the higher end models that are designed to drastically improve performance and comfort.


Bauer Reactor 6000 Goalie Ice Hockey Skates Sr

The Bauer Reactor 6000 Goalie Ice Hockey Skate offers unmatched top of the line protection for goaltenders wanting the best that Bauer has to offer. The Reactor goalie skate provides pro level protection and features that are designed to maximize performance.

Bauer Reactor 4000 Goalie Ice Hockey Skates Sr

The Bauer Reactor 4000 Goalie Ice Hockey Skate provides solid advanced level protection. Bauer's Reactor goal skates will help maximize your game playing potential while keeping you safe.


Bauer Elite Goalie Ice Hockey Skates Sr

The Bauer Elite Goalie Ice Skate is designed for goalkeepers playing up to the advanced levels of hockey. The Elite goal skate is Bauer's mid range skate offering significant upgrades over the Bauer Performance goal skates.