CCM E Pro Holder & Full Steel Runner Senior (Each)

MSRP: $40.00

PRICE: $34.95
view large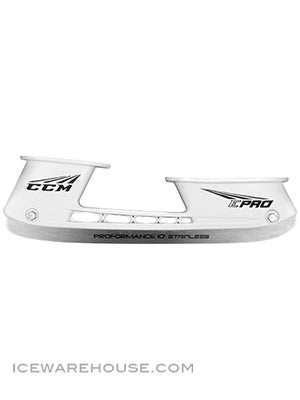 The CCM E Pro Holder and Full Steel Runner is a standard factory replacement for all CCM skates. Offers traditional performance and a full stainless steel runner that holds a sharp edge and cuts into the ice for increased performance.
Replacement holder and runner for all CCM skates
Sold individually (not in pairs)
Comes with full stainless steel runner

Offers performance and protection against rust
Hold sharp edge and cuts into the ice

Easily replaceable runner with standard flat head screwdriver
Right and left specific
CCM sizing guidelines:
Skate size / Runner length (mm)
1 / 215mm
1.5-2 / 221mm
2.5-3 / 230mm
3.5-4 / 238mm
4.5 / 247mm
5-5.5 / 255mm
6-6.5 / 263mm
7-8 / 271mm
8.5-9 / 280mm
9.5-10 / 287mm
10.5-11 / 295mm
11.5-12 / 304mm
13 / 312mm
No feedback at this time.
CCM Ice Hockey Skate Accessories