Reebok&CCM Perf Lite Stainless Steel Runners (Pr)

PRICE: $51.99

Free Shipping!

Lowest Price Guarantee
view large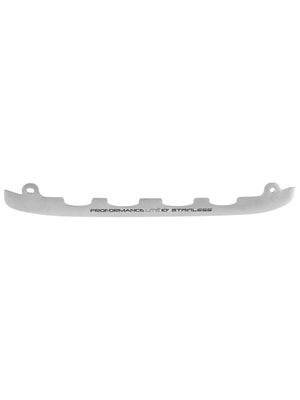 The
CCM and Reebok ProFormance Lite Stainless Steel Runners
are the complete replacement kit (includes left and right runners) for the E-Blade Pro Holder. The Reebok/CCM Proformance Scalloped Stainless Steel Runners are a solid upgrade from the Full version, offering a much more lightweight design without sacrificing strength or durability.
* D and E widths of the same size use the same runner (EX: 8.5D and 8.5E skates both use 280mm runners)
Includes:

Complete set of runners (Left and Right)
Holder Compatibility: E-Blade Pro (E-Pro)

Reebok and CCM General Sizing Guidelines

Runner Length / Skate Size
215mm / 1
221mm / 1.5 - 2
230mm / 2.5 - 3
238mm / 3.5 - 4
247mm / 4.5
255mm / 5 - 5.5
263mm / 6 - 6.5
271mm / 7 - 8
280mm / 8.5 - 9
287mm / 9.5 - 10
295mm / 10.5 - 11
304mm / 11.5 - 12
312mm / 13
Model Number:

1040013

Holder Compatibility: Tuuk LightSpeed 2 (LS2)

Bauer General Sizing Guidelines
Cut-outs in the blade reduce weight, and flex for a tighter turning radius
Stainless blade holds a sharp edge and cuts into the ice
Gives the ability to make sharp turns and quick stops and starts
Mounts to Reebok or CCM E-Blade Pro Holder by a 2 screw mounting system
Comments: This has been a disappointing product for me. I've been playing hockey for 15 years in a men's adult (beer type) league, and have been in CCM skates the entire time. For the last two years I've used the perforated/scalloped blades in an attempt to shave a little weight off my skates.
The problem is that I get a year or so out of these runners (skating 4 months out of the year) and then they break, right on the edge of a perf/scallop. It's not like I'm constantly taking hard shots off my runner; it's just normal wear and tear.
I just broke my second blade in two years, and I've decided to buy the normal, non-perf/scalloped blades. If you're a hockey star, then maybe the extra weight savings is worth it. For me, I'm not willing to give up the durability that traditional runners give you in exchange for an ounce of weight savings, or whatever it is.
From: Cliff, Stevenville, MI
Other Items to Consider
CCM Ice Hockey Skate Accessories