CCM RBZ 80 Ice Hockey Skates Sr

PRICE: $299.99

Free Shipping!

Lowest Price Guarantee
view large
360 View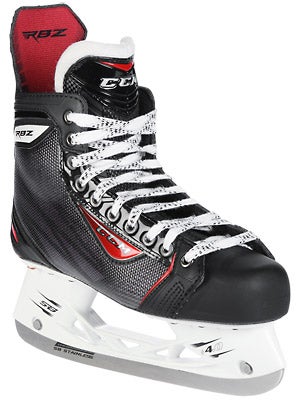 The CCM RBZ 80 Ice Hockey Skates are high performance ice skates without the high price tag. This RBZ 80 features the all new SpeedBlade 4.0 Holder, Vectorwear quarter package and a full composite outsole; all to allow a player to get an extra step on their opponent.
The new SpeedBlade 4.0 holder is heightened by 4 mm in the front and rear post so that a player can lean even more aggressively into turns without bottoming out. Without a stiff quarter package, this could not be fully utilized which is why CCM designed the RBZ 80 with a Vectorwear quarter package. This outer shell has a great look but is very stiff and durable, while the EPP foam core allows the skate to be thermoformed to an individual player's foot.
The Junior skate sizes range from 1.0 - 7.0 while the Senior sizes overlap 6.0 - 12.0, giving the option to younger players who require larger sizes to utilize a junior skate with junior-specific features such as the Easy Tie System.
Model Number: SK80
Heritage: New
Level of Play Guideline: Performance
Fit Guidelines: General fit aspects of the CCM boot are medium-high volume, medium ankle area, wide across top of foot and forefoot and medium toe box.
Sizing Guidelines: CCM skates generally fit 2 full sizes down from your regular shoe size.

If you wore a 2012 or older CCM skate, you should choose a 1/2 size smaller 2013 CCM skate

(i.e. 2012 CCM CL 8.0 = 2013 CCM RBZ 7.5)

CCM RBZ skates fit about 1/4 size smaller than Reebok skates
Quarter Package:

Vectorwear Surlyn outer shell

Reinforced to insure a stiff and durable quarter package
Fully heatmoldable for personalized fit

EPP Foam Core

Additional strength for a powerful stride

Liner:

Heavy Duty Microfiber

Very durable while remaining comfortable

Tongue Construction:


7 mm White Felt Tongue

Traditional and comfortable feel
Added lace-bite protection backed with foams

Footbed:

Standard CCM footbed for additional comfort

Outsole:


Composite construction with included air vents

Much stiffer and efficient than injected plastic

Blade Holder and Runner:

Speed Blade 4.0 Holder with SpeedBlade Stainless Steel Runner

Speed Blade Holder is 4 mm higher than previous CCM holders, allowing for one of the most aggressive turning radius in the game
SpeedRibs utilize a triangular design that increases torsional resistance which in turn helps get the most speed and power possible out of the holder

Weight of a Size 9D Skate:
Comments: I have always been a Bauer guy. I purchased the new Supremes & lasted an hour before I traded them in. I tried on these CCM RBZ & everything just felt great from the time I slipped them on! No soreness or break in period, got them sharpened & took to the ice with no issues. These skates feel Awesome all around, support is perfect & skate feels durable. Be aware sizing is real funky on these skates. I'm a size 9.5 shoe & took a 7.5 in the RBZ. I would recommend these skates to anyone, high end skate and price is more than fair!
From: Jay, Clinton, CT
Comments: Very comfortable skate. It's light and doesn't feel bulky. Feels a little bit tall in the heel compared to a Tuuk holder. Overall, I'm pleased with how it performs for the price. Highly recommend!
From: Chris, Gilroy, CA
Comments: Great skate! Super comfortable after baking. Vector shell (same one used for the U+10, U+12 and Crazy Lights) is light, stiff and tough. Definitely not as stiff of a boot and tongue as the models above this, which for my personal preference is a positive. New 4.0 holder is a nice upgrade over the U+ versions. Have had them for 3 months not and skate 2-3 times per week and they are holding up very well. One note that is highlighted in the description is the unique sizing of the RBZ's. Make sure you try them on. I came from a size 8.5 CCM U+10 skate, jumped a 1/2 size down as recommended and they were still to loose in the heel. I ended up with a 7.5. Really a wacky sizing system, but if you get it right they will fit like a glove. Would highly recommend.
From: Dave, West Chicago, IL
Other Items to Consider
CCM RBZ Ice Hockey Skates
Senior
The CCM RBZ Ice Hockey Skates are the premier skates from CCM, providing players with a pro level of performance. The RBZ features all new technologies such as the SpeedBlade Holder, Hyper-Glide Polished Runner and the Action Form™ & Speed Core quarter package. Also included is the option to choose one of three different CCM Custom Support Insoles that will support your foot like never before, improving the comfort and fit of the skate allowing you to get the absolute most out of every stride.

The CCM RBZ 100 Ice Hockey Skates offer an advanced level of performance at a lower price point than the flagship RBZ skates. CCM upgraded this RBZ 100 with a full carbon composite outsole that provides advanced stiffness and performance.
The CCM RBZ 90 Ice Hockey Skates are a good choice for the intermediate to advanced level player who is looking for an aggressive and lightweight skate. The RBZ 90 uses the excellent Action Form outer shell that provides stiffness and support while the Speed Ribs on the SpeedBlade 4.0 help provide one of the tightest turning radius' in the game.


CCM RBZ 80 Ice Hockey Skates Sr

The CCM RBZ 80 Ice Hockey Skates are high performance ice skates without the high price tag. This RBZ 80 features the all new SpeedBlade 4.0 Holder, Vectorwear quarter package and a full composite outsole; all to allow a player to get an extra step on their opponent.
The CCM RBZ 75 Limited Edition Ice Hockey Skates have the great performance features to match the flashy white quarter package accents. The RBZ 75 LE's also have a Dual Zone Microfiber and Clarino liner that can withstand the tests of time and comfort.

The CCM RBZ 70 Ice Hockey Skates are the first model in the RBZ ice skate line to utilize the all new SpeedBlade 4.0 Holder. These skates with the new holder are perfect for the intermediate level player who's looking to elevate their game and capitalize on one of the tightest turning radius' in the game.
The CCM RBZ 60 Ice Hockey Skates are a solid choice for the newer or recreational players who are looking for more support and responsiveness than an entry level model would provide. This RBZ 60 has an upgraded sublimated tech mesh quarter package that not only looks flashy but offers good stiffness and durability.

The CCM RBZ 50 Ice Hockey Skates are a step up from the entry level model RBZ skates. These ideal for the beginner or casual player who are looking for a better performing and more durable skate than the RBZ 40. The RBZ 50 skates utilize higher quality materials in the quarter package, tongue and runner.
The CCM RBZ 40 Ice Hockey Skates are the entry level model from the CCM RBZ skate line. The RBZ 40 skates are not overly stiff like the high-end skates, perfect for beginners who need forgiveness in the quarter package. The skates also have a similar look to the flagship RBZ skates with the red accents and white felt tongue.