CCM & Reebok 2 Piece Axle Hockey Wheel Axle Kit

MSRP: $15.00

PRICE: $14.99
view large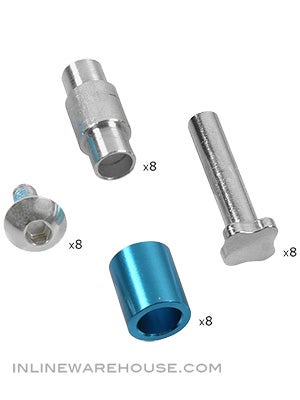 Replacement 2 piece axles and bearing spacers for 2011 and earlier CCM and Reebok roller hockey skates. Kit is for a complete pair of skates.
CCM & Reebok are currently sold out of this axle. A workable solution is to use the Sonic Extender Axle kit.
Replacement axles for the following CCM and Reebok skates:
CCM Skate Models:
2005/2006 CCM PF8, PF6, PF4, PF2
2007/2008 CCM Vector V8.0, Vector V6.0, Vector V4.0, CCM 2.0
2009 CCM Vector 08, Vector 06, Vector 04, Vector 02
Reebok Skate Models:
2006/2007 RBK 6K Pump, 5K, 4K
2008/2009 RBK 9K Pump Jr, 8K Pump, 7k Pump, 5K, 3K
Kit includes:
8 - 6mm size 2-piece axles
Features blue lock tight on threads for secure fastening
Unique head shape is shown to the right
8 - Long sleeved 608 standard bearing spacers(silver)
8 - Floating 688 micro bearing spacers(blue)
No feedback at this time.