Mission Inhaler DS2 Roller Hockey Skates Sr

Was: $499.99

SALE:$299.97

Free Shipping!

Lowest Price Guarantee
view large
360 View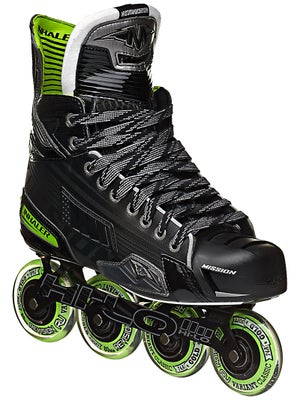 The Mission Inhaler DS2 Roller Hockey Skates come with many top-end features, but not the top-end price tag. For true high-performance, Mission gave the Inhaler DS2 a Nylon Tech Mesh Quarter Package, a Pro-Style Two-Piece White Felt tongue and USA-made Revision Variant Classic Wheels.
Just like the rest of the skate, the DS2's quarter package is jam packed full of features. It has the premier Nylon Tech Mesh construction, S.I.C.K. Side Vents that enable hot air to escape out of the boot while the Inhaler Vented Toe Cap allows cool air to come in through the front. The quarter also comes with interchangeable Heel Color Chips and Tendon Guard Tabs, giving players the option to change the whole look of their skates in a matter of seconds.
Underneath, the Mission Inhaler DS2 Skates have a high-quality 6000 Series, CNC Ventilator Hi-Lo™ Frame with Revision's Variant Classic wheels. These high-performance wheels supply tons of grip while the Hi-Lo™ Swiss LE Bearings provide the glide and speed to outrun the competition.
Model Number:

1044702

Heritage: AC2
Level of Play: Elite
Skate Fit Guidelines: Medium Volume / standard heel pocket - standard forefoot - standard instep
Sizing Guidelines: Mission skates generally fit 1 1/2 sizes down from your regular shoe size
Quarter Package:

Nylon Tech Mesh with Strategic Wear Patches

Indy "Memory" Foam Soft Ankle Pockets for pro-level comfort
S.I.C.K. Quarter Ventilation allows hot air to escape out of the boot with cool air coming in from the Inhaler Vented Toe Cap

Interchangeable Heel Color Chip

With 6 colors to choose from, Heel Color Chip allows for quick and easy custom personalization
Slip in the desired color to the chip pocket, or leave it empty for an incognito look

Interchangeable Tendon Color Tab

Attached with velcro, the DS2 comes with Green and Orange overlays that can be swapped out or taken off completely for a blacked-out look

Lowered tendon guard for full more of motion

Heel Support:
Liner:

Brushed Nylon

Soft to the touch and helps to wick away moisture

Tongue Construction:

Two-Piece, Pro White Felt with an integrated lace-bite insert

Injected foams for lace-bite and impact protection

Outsole:

Full Lightweight Composite

Offers a featherlight feel with top-notch energy transfer and responsiveness

Frame:

Hi-Lo™ 6000 Series CNC Aluminum Ventilator™ Frame

The perfect balance in wheel sizes, using (2) 76mm wheels in the front and (2) 80mm wheels in the rear

Maximizes results while still maintaining a low, powerful center of gravity
Offers increased overall speed with a decreased stopping distance

Mission Square Flush Two-Piece 6mm Axles

Wheels:

Revision Variant Classic 74A Wheels

USA-Made with top of the line RV 100 urethane formula for Pro-level indoor grip and speed
Hollow Torus Technology allows the side walls to flex in turns and stops for maximum grip while maintaining a featherlight feel

Bearings:

Hi-Lo Swiss LE 608 Bearings

Weight of One Size 9D skate:
Comments: I just recently purchased these skates as I was using some old Bauers. These skates are amazing. They are very supportive and they are very responsive compared to my olds skates. I also have been a fan of Labeda wheels but these skates might have changed my mind. They stop great and don't slip when I am taking off from a stand still. I have yet to bake them but everyone suggests I do. They are very lightweight compared to my old Bauers as well.
In the end I was hesitant to purchase $500 skates but I couldn't be happier with my purchase!
From: Michael, Chelsea, MI
Comments: Im 30 yrs old have played hockey since I was 7. I started playing travel ice hockey and then roller hockey in 2000. I worked at a roller rink and for years played multiple games almost everyday and often competitive tournaments on weekends. At this time I skated on the top of the line mission skates (don't remember model name). As you can see these skates took quite a beating and for the most part are still in tact today. Fast forward to today, I have 5 kids and haven't had time and money to play puck until just recently I started to skate 30 and over once a week. I'm 6'3'' and 215lbs. I will confess that I'm picky when it comes to my equipment and after a few skates under my belt and getting the feel back, I was really hating my skates but did not want to spend the money for new ones. I saw a web deal for some cheaper Bauer skates and after 3 games I hated them. They were so flimsy and the wheels were terrible. After much research and feeling reluctant to fork over 500 b
ucks, I pulled the trigger on the mission ds2's and I played back to back games this morning and I absolutely love them!!! Not having new skates in 15 years these skates were so comfortable right out of the box (didn't bake). They are super light and the most important part for me, they are super stiff and really slowed me to get a more powerful stride. My teammates were wondering what had gotten into me bc my skating was much improved. The revision wheels are very grippy and allowed me to make quick cuts and stop quickly, even with being a bigger guy. I didn't see any good reviews from people who seemed real on this line from mission, so I felt compelled to tell my story and let you all know that these are excellent skates and worth every penny. These skates definitely allowed me to regain my confidence and excitement for the game. I can't wait to skate in these babies next week!
From: Adam, Livonia, MI
Comments: The mission DS2 skates are a great high end skate and bottom line I would highly recommend these. They are very similar to the DS1 skates with the differences being a composite outside instead of the woven carbon fiber layered version and the tongue having a slightly different feel both of which were not noticeable. The only other main difference is the wheels being the revision variant classics rather than variant plus wheels which I did end up switching out for the variant plus over time. I am pretty picky about wheels though and go through wheels fast anyways in the NCRHA so that might not be a concern for others.
From: Caden, West Chester, PA
Other Items to Consider
Similar Items
Mission Inhaler DS Roller Hockey Skates
Senior
The Mission Inhaler DS1 Roller Hockey Skates are the flagship model in the second generation Inhaler Line. The Inhaler DS1's feature all of Mission's premier technologies; such as the Aluminized Glass Composite Outsole, the full magnesium Hi-Lo™ Frame and even Revision Variant Plus Wheels with Swiss LE Bearings.

The Mission Inhaler DS2 Roller Hockey Skates come with many top-end features, but not the top-end price tag. For true high-performance, Mission gave the Inhaler DS2 a Nylon Tech Mesh Quarter Package, a Pro-Style Two-Piece White Felt tongue and USA-made Revision Variant Classic Wheels.
The Mission Inhaler DS5 Roller Hockey Skates are the first model in the Inhaler DS Line to feature the one-piece Aluminum Hi-Lo™ Vanguard Frame or the Hi-Lo™ Clinger XXX Grip Wheels. Both are quality performance pieces any intermediate to advanced level player should have and want in their skates.