Easton Stealth 75S Ice Hockey Skates Jr

MSRP: $260.00

PRICE: $199.99

Free Shipping!
view large
360 View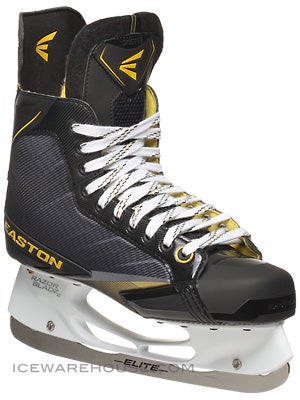 The Easton Stealth 75S Ice Hockey Skates are an excellent mid-price point skate that is great for the players who are beginning to find a rhythm in their stride. The Easton 75S ice skates see a solid upgrade in the quarter package as well as the internal liner.
The upgraded materials in the quarter package do a couple of different things for the skater. The first is the better materials allow the boot to be much more thermomoldable than the 65S skate, giving the player a personalized fit that is more comfortable and better performing. The other advantage is the increased stiffness and stability that more advanced players require.
Model Number: A147154
Level of Player: Ideal for the intermediate to advanced level of player
Fit Guidelines: General fit aspects of the Easton boot are medium volume, medium heel pocket, medium across top of foot and forefoot and toe box. Slightly aggressive stance.
Sizing Guidelines: Easton skates generally fit 1 1/2 sizes down from your regular shoe size
Quarter Package:

Molded and reinforced thermoformable high-density foam panel
Laminated with synthetic mesh
Screen printed graphics

Moldable reinforced foam construction provides a balance of stiffness and flexibility for an incredible value

Liner:

Soft-touch mesh synthetic
Combination non-moisture-absorbent foam and PU foam heel pocket and comfort edge

Tongue Construction:

Traditional 2-piece black felt tongue

Provides an anatomical fit

Footbed:

Easton Performance Fit 75S molded footbed

Includes vent holes to help keep the foot dry

Outsole:

Lightweight injected plastic
Dry Flow™ - Releases excess moisture and heat created during play

Equipment will stay lighter, stiffer and drier game after game

Blade Holder and Runner:

Razor Bladz II - A revolutionary blade system which allows the steel to arc during turns, resulting in faster, sharper, explosive turns
Elite Runners - High-end stainless steel design with a power tab in the middle of the blade for enhanced stiffness and energy return

Weight:

875 grams (Based on a size 9.0D)
No feedback at this time.
Easton Ice Hockey Skates Junior