EZPuck Shooting Boards

Starting at $39.99

Lowest Price Guarantee
view large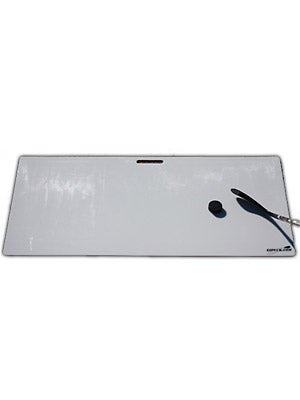 The EZ Puck Hockey Shooting Boards are a great training tool for the player who wants to elevate their game. This shooting board simulates the glide of an ice puck on an ice surface and the glide of a roller hockey puck on an indoor tiled surface but can be used anywhere! The EZ Puck helps players to improve all facets of their game; whether it's working on a new stickhandling move or perfecting their shot, the EZ Puck has you covered.
The Small, Medium and Large sizes come with a single carrying handle to make moving and storing the boards as easy as possible while the Extra Large boards feature two carrying handles to accommodate the extra size. The XL Pre-Drilled model features pre-drilled holes specifically made for the EZ Puck Pylon Pucks that help to develop quick hands, better hand-eye coordination and puck control.
Size / Dimensions / Thickness


SM / 24" x 48" / 3/16"
MD / 24" x 60" / 3/16"
LG / 30" x 60" / 3/16"
XL / 48" x 96" / .095"
EZ Puck Warranty

All EZ Puck product have a 30 day unconditional satisfaction guarantee! If you are not 100% satisfied, return the EZ Puck Product with the original receipt for a full refund.
Shipping Note

This is a drop shipped item, meaning it will be shipped directly from the manufacturer to you. The item will be shipped ground and arrive in an estimated 7-10 business days. Only available for shipments in the contiguous U.S.
Ground Shipping is included in the price
There are no returns or exchanges on this item
To expedite your order, please order this item separately. As you may order more than one EZ Puck Shooting Board on an order, you may not combine any other items on the order. This purchase amount doesn't count toward the $75 amount to earn free shipping on other items.
Comments: I got the medium, and I'm glad I did. I think the small wouldn't have been big enough, and I don't feel like it needs to be any bigger. A green biscuit slides great, but I'm kind of disappointed with how poorly a puck slides around. I'm going to try some Pledge, because that's what people use on homemade shooting pads, but I was kind of hoping I wouldn't have to mess with that stuff when I bought this. I'm going to keep it, but I don't know if I'd ever buy one again.
From: Dan, Madison, WI
Other Items to Consider
Similar Items
EzPuck Hockey Training Aids