EZPuck Shooting Board Ultimate Combos

Starting at $199.97

Free Shipping!

Lowest Price Guarantee
view large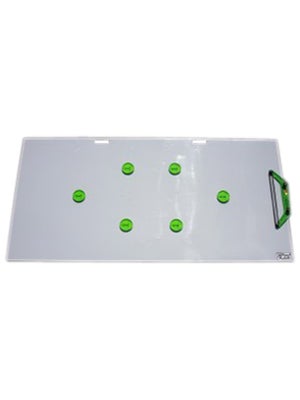 The EZ Puck Shooting Board Ultimate Combo is a complete training tool that allows players to work on their shooting, stickhandling and passing. This Ultimate Combo comes with the EZ Puck XL Pre-Drilled Shooting Board, the EZ Puck Onetimer Shooting Trainer and either the Off-Ice or On/Off-Ice Puck Pylon System. (The On/Off-Ice Package also includes the OneTimer Counter Weight)
The Shooting Board is 48" x 96", giving players plenty of room to operate on. The board is made of a quality material that gives players a near on-ice feel when using an ice hockey puck and simulates the glide of a roller puck on a tiled or smooth surface too. The board is pre-drilled to fit the included Puck Pylons securely so that a player can work on their stickhandling skills and accuracy. There are (8) locations for the pylon pucks to sit into, giving players the luxury of being able to design different layouts and patterns of pylons to stickhandle around and through. The difference between the Off-Ice Pucks and On/Off-Ice Pucks is that the On/Off-Ice models are much heavier so they can be pegged into the ice and will stick firmly, unlike the Off-Ice Pucks.
The OneTimer Shooting System attaches to the board in seconds using the two knobs that securely clamp it to any side of the board. Once fastened, it can allows players to practice on one-timers or speedy catch and release shots by themselves and it helps them improve on their soft hands for catching passes. The On/Off-Ice Package also includes the OneTimer Counter Weight, which allows it to be a standalone and stationary unit on ice or other smooth surfaces without moving.
Size / Dimensions / Thickness
XL / 48 x 96" / .095"
EZ Puck Warranty

All EZ Puck product have a 30 day unconditional satisfaction guarantee! If you are not 100% satisfied, return the EZ Puck Product with the original receipt for a full refund.
On/Off-Ice Package Includes:

1 - 48" x 96" EZ Puck Pre-Drilled Shooting Board
1 - EZ Puck OneTimer Shooting System
1 - EZ Puck OneTimer Counter Weight
6 - On/Off-Ice Puck Pylons
Off-Ice Package Includes:

1 - 48" x 96" EZ Puck Pre-Drilled Shooting Board
1 - EZ Puck OneTimer Shooting System
6 - Off-Ice Puck Pylons
Other Items to Consider
Similar Items
EzPuck Hockey Training Aids