Fox40 Force Official NHL Referee Whistle

PRICE: $13.99

Lowest Price Guarantee
view large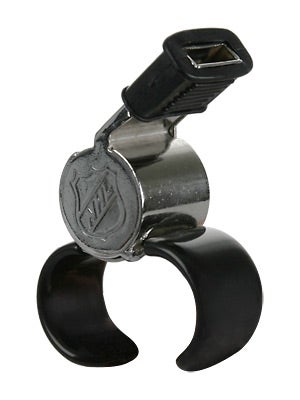 This is the official whistle of the pros. Finger whistle design. Embossed with the NHL™ shield logo. It's your call, so call it with the very best.
Technically superior!
Official whistle of the NHL™
Lead-free metal whistle for durability
Rubber mouth tip for protection and comfort
Newly developed pea whistle with moisture resistant sound ball
Traditional lower tone instantly recognized for hockey
Powerful low tone rises above the crowd noise and always keeps you in control
Technically superior to all other brands-will never fail in freezing conditions
Made in Canada
Invented by Ron foxcroft, International Referee.
Other Items to Consider