HI-LO Magnesium Roller Hockey Chassis

MSRP: $210.00

PRICE: $149.99

Free Shipping!
view large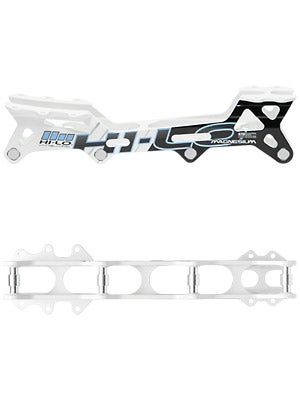 The HI-LO Vanguard Magnesium frames are the supreme choice for replacement frames on the market. The frame is constructed of a magnesium alloy that is the lightest material used today, it just so happens to be extremely strong too. The frame runs (2) 76mm wheels in the front and (2) 80mm wheels in the rear providing excellent skating and stopping power. This kit also comes with bearing spacers for standard and micro hub wheels so any set-up will be ready to roll.
Hi-LO products are manufactured by Mission and featured on Mission skates.
Sizing Guideline

2012-2013 Skates


Frame Size / Mission Skate Size


SM-MD / 6.0- 9.5
LG / 10.0 -12.0

2010-2011 Skates


Frame Size / Mission Skate Size


SM / 6.0-7.5
MD / 8.0-9.5
LG / 10.0-12

2009 and Older skates

Frame Size / Mission Skate Size


SM / 6.0-8.0
MD / 8.5-10.5
LG / 11.0-13.
Alkali Fully Extruded Chassis Design:

Utilizes four 80mm wheels for excellent power transfer

Smaller wheels can be used for a goalie set up

Magnesium Alloy is extremely strong and durable

Kit is complete with:


8 Axles
8 Long Sleeved 608 bearing Spacers
8 Short Sleeved 688 bearing Spacers
1 Axle Tool

Sold in pairs
No feedback at this time.