Hockey Plays and Strategies Book

MSRP: $20.00

PRICE: $16.99
view large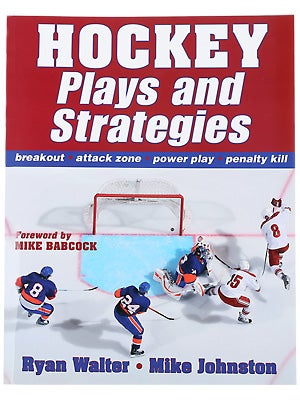 Hockey Plays and Strategies presents all of the popular offensive, defensive, and special teams systems used in today's game, as well as tactical advice on making in-game adjustments and player match-ups at every level of play.
Veteran coaches Ryan Walter and Mike Johnston share more than 160 plays, systems, and strategies to control the ice and light up the net. In this one-of-a-kind guide, you'll learn these skills:
Puck movement within the neutral zone to set up for attack zone entry and scoring chances on the rush
Capitalizing on all odd-man rush scoring chances and shutting down the opposition's opportunities
Executing lock-down defensive play in all zones to eliminate good scoring chances and shots on goal
More than 25 power play systems for both the one-man and two-man advantage to keep the defense off balance and produce more scoring chances
Penalty kill strategies that will stymie any attack and routinely clear the zone
Controlling the puck and breaking up the opposition's play with aggressive forechecking and backchecking strategies
Controlling the game with top-notch game management tips on line pairings and changes, key momentum changers, and many more in-game adjustments to keep your opponents on their heels throughout the game
Part I Offensive Play for Forwards and Defensemen
Chapter 1. Breakouts
Chapter 2. Neutral Zone Counter and Regroups
Chapter 3. Offensive Zone Entry
Chapter 4. Attack Zone
Chapter 5. Power Play

Part II Defensive Play for Forwards and Defensemen
Chapter 6. Forechecking
Chapter 7. Neutral Zone Forechecking and Backchecking
Chapter 8. Defensive Zone Entry
Chapter 9. Defensive Zone Coverage
Chapter 10. Penalty Kill

Part III Special Game Situations
Chapter 11. Face-Offs
Chapter 12. Bench Management and Line Changes
No feedback at this time.