Skill Pad Shooting Board

PRICE: $98.95

Free Shipping!

Lowest Price Guarantee
view large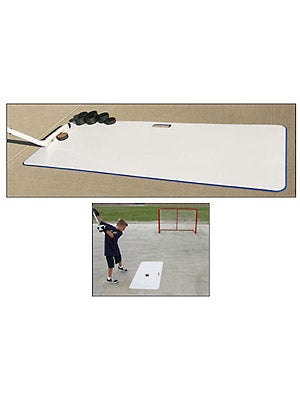 Practice your skills off the rink! This synthetic surface is a great training tool. Great for practicing stick handling or shooting skills. Just the right size and 1/4" thick so it's durable and sturdy!
Shipping Note:
This is a drop shipped item, meaning it will be shipped directly from the manufacturer to you. The item will be shipped ground and arrive in an estimated 7-10 business days. Only available for shipments in the contiguous U.S.
Ground Shipping is included in the price.
There are no returns or exchanges on this item.
To expedite your order, please order this item separately. As you may order more than one Skill Pad on an order, you may not combine any other items on the order. This purchase amount doesn't count toward the $49 amount to earn free shipping on other items.
Solid, synthetic smooth pad
Rigid material ensures the surface stays flat
Practice stick handling and shooting anywhere
Cutout handle for easy carrying
Easy to set up, practice, maintain and store
Works with ice or roller pucks
Color: White/Blue
Sizes: 58" x 24" x .25"
Comments: Works great, a must have for off ice training.
From: Travis, VA

Comments: Pucks slide great on it (even better if you put furniture
polish on it)and your sticks don't get chewed up by rough surfaces. This
pad is very stable on grass too.
From: Justin
Comments:Great product. My kids love it. They can practice anytime now. Plus the smooth surface doesn't tear up their expensive sticks.
From: Hockey Dad
Other Items to Consider
Similar Items