Sherwood IW Tall Boy 1000 ml Water Bottle

PRICE: $3.99

Lowest Price Guarantee
view large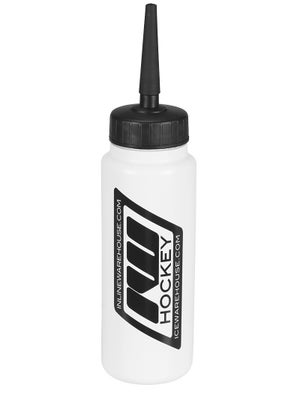 Get this IW Tall Boy water bottle for ONLY $2.99 with any order over $50!
High quality BPA free water bottle manufactured by Sher-Wood Hockey, Inc. (formerly In Glas Co). Straw top design is ideal for players wearing face cages.
Bottle Size - 1000ml (33oz)
High quality water bottle manufactured by Sher-Wood (formerly In Glas Co) - Manufacturer of the official ice hockey puck for the NHL™
Squeezable bottle with straw pull top
Straw pull top is ideal for players wearing a cage
New, secure screw top lid
Wide opening for easy filling and adding ice
White in color
BPA Free - Sher-Wood water bottles do not contain any Bisphenol-A and they conform to the Food and Drugs Administration's regulations
Size - 1000 ml (33 oz)
Comments: straw fits easily through my cage so now i dont have to unlatch my cage to take a drink during the game
From: Jarrod, OR
Comments: I absolutely love this water bottle since I got it. I play goalie who doesn't get enough breaks, so for this all I have to do is remove my glove for a quick drink.
From: Morgan, Greenville, PA
Comments: this water-bottle hold water and other liquids very well. It keeps them cold when you want, or hot when you want. Ever tried hot chocolate while playing hockey? This bottle keeps it nice and hot and deilicious. I love the nozzle thing because i can stick it right into my cage without taking my helmet off. Best bottle ever!!!!
From: Jimmie, CA

Comments: I don't wear a cage, but I love the straw top anyways. Makes it easy to aim the water into my mouth. Also holds a lot of water, almost the perfect amount for a full game.
From: Chadd
Comments: Perfect size for my son which is a squirt. has had it a year now with no issues. looking to pick up more.
From: Jack, NJ

Comments: Love this water bottle. It holds a good amount of water, and the long nozzle makes drinking easy. When I used the traditional water bottles i always end up getting water everywhere lol. This is definitely worth the extra dollar.
From: ??
Comments:Holds enough water and the nozzle makes it easy to drink from while wearing a cage.
From: Ryan
Comments: Great water bottle to use while playing hockey. Solidly built and holds plenty of water and the long nozzle makes drinking while wearing a full cage easy as can be. Has held up well to weekly use and haven't had any trouble with the nozzle despite pulling and pushing it to open and close multiple times throughout a game. Great water bottle for the price.
From: Steve
Comments: I bought this bottle in hopes of an easy way to get a drink when I had my cage on, without having to take it off. Mission accomplished. This bottle is very convenient for helmets with cages, the long nozzle wins me over compared to other bottles. Plus it holds a good amount of fluid. I put it in my bag and take it to every practice
From: Mandi
Comments:I bought 8 bottles and carrier for my Squirt team about a month ago, of the 8 bottle, only 5 work now since the "straw" get twisted or pulled off and once off cannot be put back without ruining the top. Poor design, good idea.
From: Joe
Comments:I bought two of these for my boys when they started inline hockey, and the whole team has asked for them since. A good strong water bottle, very practical, especially for full face cages - sure beats pulling your helmet off for a sip of water. It has a wide enough opening at the top so that you can put whole ice blocks in the drink to keep it cold on long trips to away games. I recently had 20 bottles delivered for other players in our club.
From: Mick
Other Items to Consider
Similar Items
Sherwood Water Bottles and Accessories