Reebok Goalie Knee Protector w/Belt

MSRP: $100.00

PRICE: $79.99

Free Shipping!
view large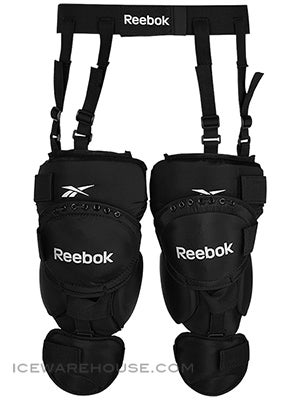 The Reebok Pro Goalie Knee Protector delvers anatomically engineered knee and thigh support and protection. These knee guards provide suitable protection for goaltenders playing up to the professional levels of ice hockey. Sturdy moisture wicking nylon materials are used throughout offering durability and comfort. Various foams reinforced with molded plastic inserts provide improved safety and shot dampening. Reebok's three segment design allows the knee and thigh protection to move with the goaltender without restricting mobility. The Reebok Pro goalie knee guard comes with a 2" elastic belt and nylon straps that help prevent the pads from sliding down, and four adjustable knee and thigh elastic velcro straps for a custom fit.
Model Number: KPREE
Level of Play: (Senior)

Roller: Professional
Ice: Professional
NOTE: Reebok logo may vary from image. Logo may be the RBK logo.
Construction:

Nylon construction

Wicks moisture
Lightweight and comfortable

Graphics:
Protection:

Wrap around thigh guard reinforced with plastic and foam
Dual density side knee foams with reinforced plastic inserts
Large overlaying molded plastic knee cap protection

Adjustable laced knee cap design

Lower knee inner and outer protection

Fit:

Adjustable 2" belt strap and 1" nylon garter straps

Helps prevent the knee guards from sliding down

Adjustable strapping system

Two 2" elastic velcro thigh straps
One 1" elastic strap knee strap
One 1.5" lower knee strap

Weight:
No feedback at this time.