Labeda 608 Bearings ABEC9 16 Pack w/Extra Lube

PRICE: $35.99

Lowest Price Guarantee
view large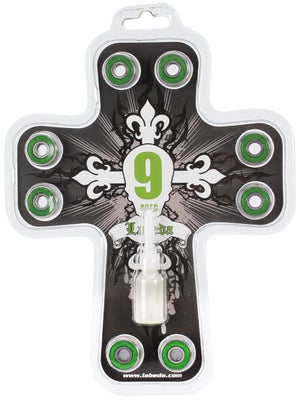 The Labeda ABEC 9 608 bearing is one smooth operator. This newly developed bearing line from Labeda maintains tight tolerances for increased speed and longevity. Heat treated balls and raceways optimize hardness and durability. 608 size bearing in a 16 pack.
ABEC 9 rated bearing
608 sized bearings
Surfaces polished to high Micron finish
Deep race grooves for stability and speed
Raceways and balls are made of high grade chrome steel
Raceways and balls are heat treated and honed for maximum hardness and durability
Lubricated with a synthetic speed lube which improves the bearing life
Removable Stainless steel shields for easy maintenance
Removable nylon retainer
Package consist of:

16 bearings
High Speed Lubricant
Comments: Really can't complain with these. I usually go with the Mission ABEC9's but these are just a bit better. Fast straight out of the package and I have been using these for nearly a year, all still are in tact and in good shape. I do take good care of them, cleaning them and applying a bit of WD40 once every other month or whenever necessary.
From: ??
Other Items to Consider
Similar Items