Labeda Humer Eviction Roller Hockey Chassis

MSRP: $200.00

PRICE: $159.99

Free Shipping!
view large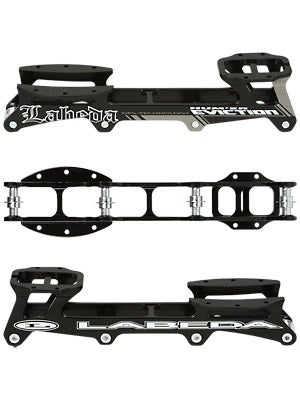 Get the edge on the competition with these Labeda Humer Eviction Frames. Considered one of the dominating chassis used in roller hockey, the Humer Eviction frames are made of engineered aircraft aluminum providing for top notch performance. Labeda designed these frames to use an all 80mm wheel set up, but it will also allow for 47mm, 59mm, 72mm and 76mm wheels as well.
Labeda sizing guidelines

:
Frame size - (Skate size)
Small (5-8.5)
Medium (8.5-11)
Large (11-13)


Labeda's Humer design:

Designed for use with all the same size wheels
May accommodate up to a 80mm wheel size

To accommodate the height of the #1 and #2 80mm wheels, a shallow groove in the bottom of the boot may need to be dremeled out

Using all 80mm wheels the Labeda Humer™ frame is the fastest set-up in the game today. Or go with all 72mm wheels for the old school set-up for a low center of gravity.

Single Axle design
Sold in pairs
Kit comes complete with:

8 (8mm) axles and 8 floating bearing spacers - works with standard or micro hub wheels
Allen Key/bearing removal tool
No feedback at this time.