Mylec PVC Folding Hockey Goal Senior 54" x 44"

PRICE: $36.99

Lowest Price Guarantee
view large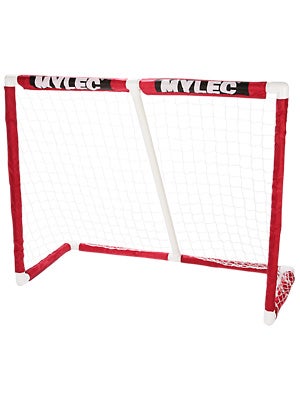 The Mylec PVC Folding Hockey Goals Senior offers a great value price, and is ideal for some good ol' fashion driveway and street hockey. This Mylec goal is designed for ball street hockey use. Can be folded for easier storage.
Model Number: 803
Recommend Use: For ball hockey
Mylec Sizing Guideline:
Shipping Note:
Excluded from shipping promotions. Ground is only $9.75 per shipment. Please refer to the Shipping Page for further information. Must ship via FedEx/UPS only - No Postal Service
Construction:

1 5/8" high impact PVC tubing
Pro Style top shelf
Sleeve netting system - For quick assembling
Heavy duty nylon netting

Replacement nets are available

Can be folded for easy storage

Folds at the front corners on the bottom
Comments: hey tim, try plastic ties around the edges to make the net tighter
From:
Comments:"Folding" may be a bit of a stretch. To fold it down, you basically have to take it apart. There are no hinges or anything. The netting is not very strong and starting to fray after a couple weeks of use, but the worst thing is the netting is WAY too big and hangs really loose so pucks constantly get stuck in it.
From: tim
Other Items to Consider
The Mylec Eclipse Jet-Flo street hockey sticks are perfect for those drive-way and street hockey games. At an affordable price the Jet-Flo stick is perfect for getting the kids together and introducing the game of hockey. The Mylec Eclipse hockey stick can have the blades replaced when they get worn down so you don't need to replace the entire stick when the blade is worn-out.
Similar Items
Mylec Hockey Goals and Nets