Mylec Official Pro PVC Hockey Goal 72" x 48"

PRICE: $54.97

Lowest Price Guarantee
view large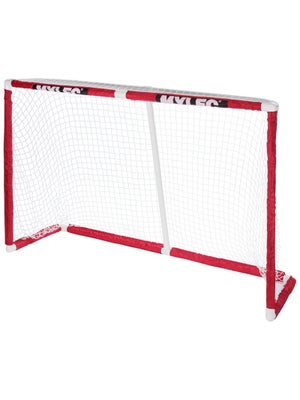 The Mylec Official Pro PVC Hockey Goals offer a great value price, and is ideal for an epic street hockey battle. This Mylec goal is designed for ball street hockey use. Easy to assemble.
Model Number: 809
Recommend Use: For ball hockey
Mylec Sizing Guideline:

6' x 4' (72" x 24" x 48")
Construction:

1 5/8" high impact PVC tubing
Pro Style top shelf
Sleeve netting system - For quick assembling
Heavy duty nylon netting

Replacement nets are available
Comments:Just got this today and couldn't be happier. A full size net for cheaper than it would be to buy the PVC and netting to put it together yourself. Plus it tears down with minimal hassle to throw it in the car. Very sturdy. The netting is a little bit flimsly and probably won't stand up to a lot of IDS pro shot pucks, but for practicing with my team on the tennis courts, it's awesome to finally give our goalie a full net to protect.
From: Tim
Other Items to Consider
Stick Length: 43", 48" & 53"
Available Flexes: YTH, JR & SR
Blade Type: Nylon
Level of Play Guideline: Recreational

The Mylec Eclipse Jet-Flo Nylon and Wood Street Hockey Sticks are perfect for driveway and street hockey games. At such an affordable price, the Jet-Flo stick is a great way to get the kids together and to introduce them to the great game of hockey. The Mylec Eclipse street stick has replaceable blades that save you money so you don't have to purchase a whole new stick once the blade wears out.
Similar Items
Mylec Hockey Goals and Nets