Mylec Street Hockey Game Set

PRICE: $319.99

Free Shipping!

Lowest Price Guarantee
view large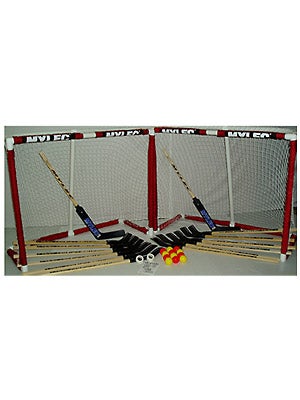 The Mylec Street Hockey Game Set includes everything you need for a pick-up street hockey game or floor hockey game. The set includes goals, sticks, hockey balls and even a rule book. A great set for the neighborhood or for school programs.
Set in includes:
2 - Ultra Pro 2 Goals:

Model # 806
PVC Folding Goals 54" x 44"
Goals fold easily for quick storage

12 - Eclipse 53" Jet-Flo® Sticks:

8 Right, 4 Left
Replacement blades are available

2 - 48" Air-Flo® Goalie Sticks:

Straight blade
Replacement blades are available

6 - Warm Weather Hockey Balls (Orange)
6 - Cool Weather Hockey Balls (Pink)
2 - Athletic Tape Rolls
1 - Street Hockey Rule Book
And when the time comes, replacement nets, sticks and balls are also available here at iW.
This is a drop shipped item, meaning it will be shipped directly from the manufacturer to you. The item will be shipped ground and arrive in an estimated 7-10 business days. Only available for shipments in the contiguous U.S.
Ground Shipping is included in the price.
There are no returns or exchanges on this item.
To expedite your order, please order this item separately. As you may order more than one set on an order, you may not combine any other items on the order. This purchase amount doesn't count toward the $49 or $199 amount to earn free shipping on other items.
Other Items to Consider
The Mylec Eclipse Jet-Flo street hockey sticks are perfect for those drive-way and street hockey games. At an affordable price the Jet-Flo stick is perfect for getting the kids together and introducing the game of hockey. The Mylec Eclipse hockey stick can have the blades replaced when they get worn down so you don't need to replace the entire stick when the blade is worn-out.
Mylec Hockey Goals and Nets