Mylec Official Pro Steel Hockey Goal 72" x 48"

PRICE: $129.99

Lowest Price Guarantee
view large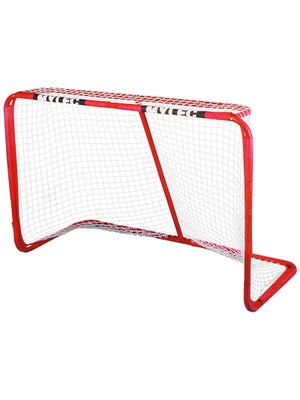 An official sized hockey goal. Made of heavy gauge
1 1/2" steel
with a durable sleeved net. Easy to assemble
.
Model Number: 810
Recommend Use: For ice players 12 and under and all inline players
Mylec Sizing Guideline:
Construction:

Heavy gauge 1 1/2" steel tubing

Pro style top shelf

Precision fit parts for solid construction

Durable and long lasting

Heavyweight polyester sleeve net for easy assembly

Replacement nets are available

Comments: For the money i was expecting alot more. Its not a bad goal, dont
get me wrong, but for 130 bucks before shipping it was a bit rich. the
bottom of the net is held onto the pipes w/ velcro which, from putting it
together, seems like it will come off easily, i just took some duct tape and
tape the net on the bottom about once every foot and on the back where the
center post is. the netting seems to stretch out fairly quickly as well.
I've seen regulation goals w/ the quicknet mes system for 10 bucks more and
it seems a hell of alot better goal for the price.
Good for practice, street hockey, roller hockey, or just messing around with
some friends. I wouldnt suggest using ice pucks on this. seems like it will
dent easily.
From: Anonymous
Other Items to Consider
Similar Items
Mylec Hockey Goals and Nets