Bones Reds by Powell 608 Bearings 16 Pack

MSRP: $40.00

PRICE: $27.95
view large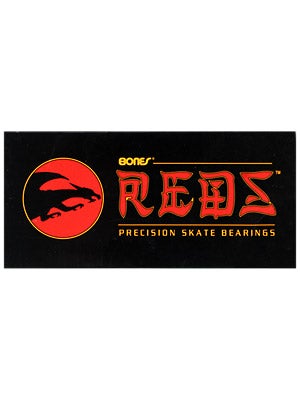 Bones REDS are perhaps the best priced bearings you can buy. REDS were developed to be an affordable alternative to Bones Swiss inline bearings. Bones quality at a price we can all afford.
Optimized bearing for skating
Bones REDS have very low friction, are made from the same fine materials with the same specification as Bones Swiss. The Bones Reds are just more affordable because they are manufactured in China.
High speed precision molded nylon bearing retainer
Single rubber shield for easier access to balls and reduces weight
Retainer and shield are removable to allow for better cleaning
Polished Chromium steel balls and races
Specially formulated Speed Cream™ for superior lubrication
Comments: My son has been rolling on the Bones Red's for about three weeks. About 4 hours a week. He loves them. He is 9 and is about 60 pounds. I don't think he is that must faster then before. Coming from stock Mission ABEC 5 that come with his skates. But I do see him skating harder & faster (No Pun intended) for longer. With the old Mission ABEC 5 I could tell when he needed to go for a rest. So I would give the a 4 1/2 out of 5. And not a five because I thought he might got a little more speed out of them. But the price is hard to beat. I would buy again.
From: Vito, Saint Louis, Missouri
Comments: Bones Reds are a MUST. For $30 you cannot go wrong. I upgraded my stock Mission Inhaler AC5 ABEC 7's with these and I tripled my spin time straight out of the box (not broken in). I paired these with some Rink Rat Hot Shot XXX 2012 Editions and I am impressed. Please do yourself a favor, if you have some stock ABEC 7's on your skates, buy these.
From: Brian
Comments: Not just best bearings for the money, but best bearings period! Bones doesn't use abec ratings because abec ratings weren't made to rate bearings for inline skates and skateboards. Instead Bones makes their bearings to withstand the abuse of inline skaters and skateboards alike. And they roll forever with little to no break in period. You take care of them, they'll take care of you.
From: Lucas
Comments: best bearings ive skated in over 15 years of skating no need to spend more on anything else
From: Joe
Comments: Very smooth and effortless speed. Don't waste your time or
money with abec7 or abec9 bearings. REDS are the way to go.
From: Gabriel, PA
Comments: These bearings are incredible. They spin, easily, for a good minute or two with a kick. Definitely worth the money, and they last forever. I had my last set for almost 5 years before i just decided to replace them. These definitely compete with higher priced bearings.
From: Tim, CA
Comments: Probably the best set of bearings for the price!!! I wouldn't consider anything else.
From: Chris, NY
Comments: Crazy fast bearings. Using them on my outdoor setup on a pair of alkali CA5s with labeda grippers, unbeatable. Wont buy anything else..
From: ?
Comments: these bearings blow away abec-9s. forget any other bearing company and go with bones. especially for the money!
From: Peter
Comments:IW set me up with these bearings and some new wheels and they made such a difference. What a fast, smooth, ride. Actually made me feel a little lighter on my feet. Very nice!
From: Tambra, Morro Bay
Comments:Ooooooooommmmmmmmmgggg these bearings are crazy awsome they are only 30 bucks for a 16 pack that's insane for bones quality bearings there so smooth and fast straight out of the box they span for 3 mins!!! And I haven't even broke them in yet!! Bones bearings are the only bearings I want to use now :)
From: Nick C. USA
Comments:Bones reds are really smooth and fast and for only 30 bucks this is steal buy these bearings u won't regret it
From: James
Comments:bones reds are awsome I use them for my skate board but decided to buy some for my cobalt q's since they needed new wheels I tried the cobination of labeda dynasty (standard hub) and bones reds and I couldn't beileive how smooth and fast they are and I recomend the combo totaly worth it
From: Wilder
Bones Bearings