Pro Guard Mini Goal w/Shooter Trainer

MSRP: $40.00

PRICE: $29.99
view large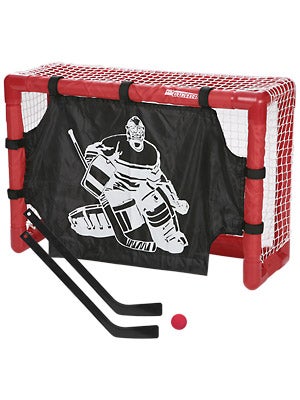 Pro Guard's Mini Goal with Shooter Trainer is a great way to fine tune your shot and have fun with your friends. Ideal for indoor knee hockey. The Shooter Trainer is easily removed.
Model Number: 8082
Recommend Use: Knee hockey
Pro Guard sizing guidelines:

Size 26.25" X 16.25" (1/3 regulation size)

Includes:

1 mini goal with sleeve netting
2 hockey sticks
1 foam hockey ball
1 shooter trainer
Construction:


Pro Style Mini goal - Mini goal with top shelf design
Rugged PVC tubing
Sleeve netting system assembles in minutes
Easy to assemble and take down
Shooter Trainer:

Heavy duty nylon
Two velcro straps on each side and three over the top - Easy on/off
Screen printed goalie

Size:

26.25" X 16.25" (1/3 regulation size)
No feedback at this time.