Bones Super Swiss 6 608 Bearings 16 Pack

MSRP: $120.00

PRICE: $80.00

Free Shipping!
view large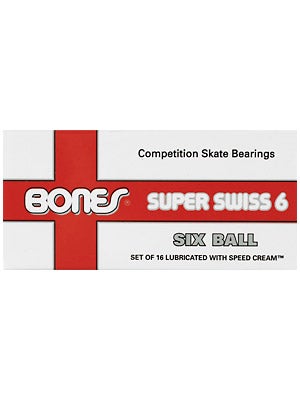 6 Bigger Balls (vs. Standard 7 balls) - Stronger and Faster.

The 6 balls are 20% larger in diameter than the balls used in 7 ball Swiss
The major advantage of using larger balls is that they roll slower, creating less friction at the same wheel RPM.
Higher top speed - because the balls don't have to turn so fast
Accelerate faster - because the races are thinner and there is one less ball
Roll farther - because of the reduced friction and ball rotation speed
Last longer because it is STRONGER!

Engineered for skating, no ABEC rating
Removable high speed nylon ball cage - allows for easy cleaning
Removable non-contact, frictionless rubber shield - allows for easy cleaning
Strong, Fast, Long Lasting, Easy to Clean.
If you are a Bones Swiss user or if you have broken bearings in the past, give the Super Swiss 6 balls a try and see if they aren't worth a few bucks more.
Comments: Have used lots of bearings on lots of different kinds of skates and will only use Bones brand. These Swiss 6 are quiet and fast. Use them for practice and competition indoor and outdoor. There is zero break-in time. A nice upgrade to a solid Bearing manufacturer
From: David, Royersford, PA
Comments: Bought these bearings not knowing if they were as good as advertise. Big change from any other bearings I had before. I notice the difference when riding up the hills of South San Francisco where I had to stop many times to rest with other bearings. The hills became easier and much more enjoyable after I bought these. I would recomend these to anyone who wants a better distance in roll
From: Chanh CA
Comments:Great bearing. Quite, fast, smooth ride. And should be easy to clean with the rubber seal.
From: adam
Comments: These are freaking sweet bearings worth every penny!
From: Ryan, City, State, washington Country: usa 2/16/04