CCM RBZ 70G Goalie Ice Hockey Skates Yth

PRICE: $169.99

Free Shipping!

Lowest Price Guarantee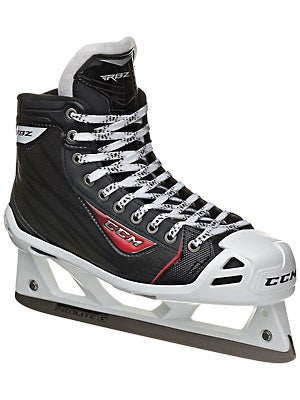 The CCM RBZ 70 Goalie Skates are constructed with a combination of lightweight and durable materials and are ideal for the beginner level of play.
The RBZ 70 has a sublimated tech mesh quarter package that is designed to be incredibly durable while still maintaining the lightweight construction of the RBZ goalie skate series. The addition of a felt tongue with lace bite protection greatly increases the comfort level in an area where intense irritation frequently occurs.
The RBZ 70 goalie skate also provides increased protection and mobility with its Prolite G cowling with plastic impact inserts. The Prolite G cowling is very light and has an increased attack angle, allowing goaltenders to make stronger pushes while also increasing the ability to recover from sliding. The toe shield provides added toe and heel protection to assist in injury prevention.
The heavy duty microfiber liner is a great addition that helps withstand the abuse that skates endure from constant pressure. The Prolite G stainless steel runner extends edge life and allows long lasting performance.
The CCM RBZ 70 goalie skates are an excellent choice for the goaltender that wants a quality entry level skate skate at a great price.
Model Number: SK70G
Heritage: New
Level of Player: (Youth)
Sizing Guidelines

CCM skates generally fit 1 1/2 sizes down from your regular shoe size. Click on

Sizing Chart

for more sizing information.
Quarter Package:
Liner:
Ankle Padding:
Tongue Construction:
Footbed:
Cowling/Runner:


Prolite G cowling with plastic impact inserts

Light weight with increased recovery angle

Prolite G stainless steel runner

Weight:
Other Items to Consider