Renfrew Pro Blade Friction Hockey Stick Tape 1 in

PRICE: $3.27

Lowest Price Guarantee
view large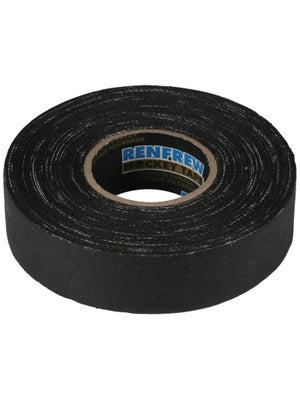 Renfrew Pro Blade Friction Hockey Stick Tape 1 inch is black stick tape with added grip for improved vibration absorption and puck handling. Renfrew superior PRO-GRADE™ technology.
This thick woven cotton cloth tape has a consistent adhesive coating that creates a moisture barrier between the ice and stick, which results in better adhesion and longer lasting product. Provides a high level of performance that serious players expect.
Model Number: 152204
Measurement: 1 roll = 1" W x 20 yards L (24mm x 18m)


Product Note: inner core color is changing from black to green but actual tape is exactly the same.
Cloth blade tape
Added tackiness for increased puck control
Thicker cloth tape
Tacky feel
Increase vibration absorption
Protects your stick blade
Comments: This tape is pretty terrible. There is NO adhesive on it and I had to super glue the tape on to my blade. Yes it may absorb vibrations from hard passes ect... but the tackiness screwed up my wrist shot. I advise against getting this tape. I have no idea why they would manufacture such a product, and I would suggest just making a tape with thicker fabric instead.
From: Rob, Los Angeles, CA
Comments: love how it absorbs vibration. The grip makes it easier to stick handle and receive passes. The one thing I noticed is that I'm having to re-tape more (i'm lazy about it). Every two sessions, the bottom tape is gone. However, it comes off clean and in one piece so it's a lot faster to retape.
From: Ryan, Foster City, CA
Comments: Puck on a string, I use it and love it.
From: Travis, VA

Comments: Tackiest friction tape I've ever used! Great strength too!
From: Neil, VA
Other Items to Consider
Similar Items
Renfrew Hockey Stick Tapes