Renfrew Hockey Shin Guard Tape - Clear

PRICE: $2.47

Lowest Price Guarantee
view large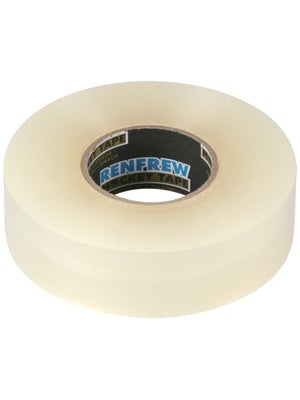 Renfrew's Clear Hockey Shin Guard Tape is quality shin guard tape that's ideal for securing and stabilizing protective shin guards. Renfrew superior Polyflex™ tape technology. What the professionals prefer!
Special Bulk Price: Click here to save 15% on case packs of 36 each
Model Number: 152212
Measurement: 1 roll = 1" W x 33 yards L (24mm x 30m)


Product Note: inner core color is changing from black to green but actual tape is exactly the same.
Clear Poly shin guard tape
Secures and stabilizes shin guards and other equipment
Tough, elastic tape holds equipment securely in place, yet allows players to skate comfortably
Water resistant product requires less frequent taping
Comments: These are about 20 cents to a dollar more anywhere else you go. Buying them here and being an IWIN member is a huge benefit. I go through these tapes like candy.
From: Kyle, Boynton Beach, CA
Comments: Works just as well as more expensive shin tape. I'll save my pennies any way I can,
From: Andres, Los Angeles, CA
Other Items to Consider
Similar Items
Renfrew Hockey Shin Guard Tapes