Renfrew Hockey Stick Tape - Super Heroes

PRICE: $5.97

Lowest Price Guarantee
view large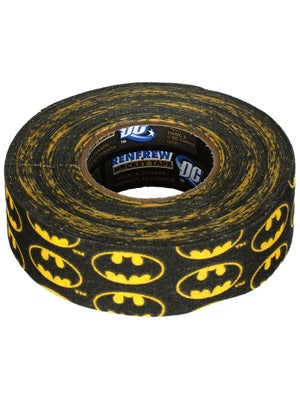 Renfrew's Super Hero Hockey Stick Tape is quality cloth tape that improves puck handling and increases the durability of your stick blade. Renfrew superior PRO-GRADE™ technology.

This thick woven cotton cloth tape has a consistent adhesive coating that creates a moisture barrier between the ice and stick, which results in better adhesion and longer lasting product.
Model Number: 166654-Batman, 166655-Superman
Measurement: 1 roll = 1" W x 20 yards L (24mm x 18m)


Product Note: inner core color is changing from black to green but actual tape is exactly the same.
Cloth stick and blade tape
Renfrew's PRO GRADE™ tape - a polyester and cotton blend
Thicker cloth tape
Increase vibration absorption
Enhances puck handling
Protects your stick blade
Comments: Batman logo'd tape is pretty cool. Unfortunately it has glue spots on the logo side of the tape, when it should be on the underside. But the look is really cool.
From: Chuck, Crum Lynne, PA
Comments: Grabbed this the first day it arrived at the shop... it's Batman, need I say more?!
From: Erica - Team IW

Other Items to Consider
Renfrew Hockey Stick Tapes