Red Star Rocket dt Outdoor Hockey Wheels

MSRP: $7.00

PRICE: $5.99
view large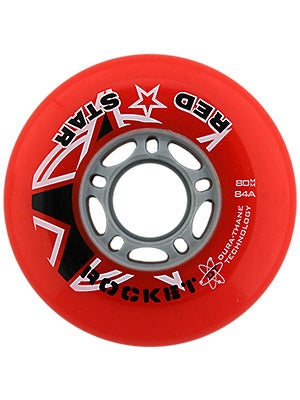 The Red Star Rocket-dt wheel is the ultimate outdoor wheel!
Ideal Playing Surface: Asphalt, Concrete
Fit Guidelines: Standard hub wheel designed for the standard 608 bearing size
Wheel Profile: Outdoor
Construction: Dual Durometer

Extra Dura-thane™ additive for supreme wear
Glu-thane™ additive for excellent grip

Hub Size: Standard 608
Hardness Available:
Sizes Available:
Comments: This is a quality outdoor wheel for asphalt or concrete. Does not offer adequate grip on coated outdoor surfaces like a painted or roll-on covered surface. I like that Red Star offers it in red, I don't understand why EVERY other company offers their outdoor wheels in orange only. Its nice to change up wheel color.
From: Matt, CO
Comments:These did not hold up nearly as well as the Ghost Revision Outdoor wheels or the reigning king, the Hyper 250. We play in Texas during the summer on hot concrete, so it's pretty much the ultimate test for durability
From: todd
Comments:A month later, these wheels are still rolling good. They're still smooth and fast. The durometer is holding up as you would expect 84A wheels would, they haven't worn down too much yet. I'll put up another review in a few weeks before the weather becomes un-skateable.
From: Jay, Ontario
Comments:Just got these and after one usage session I love them. They feel very smooth and fast. I'll comment again later down the line after more usage, to see how the wheel's durometer holds up.
From: Jay, Ontario
Red Star Hockey Wheels Standard 608 Hub
The Red Star Sniper GT Wheels feature the new Hollow Core Technology. The Hollow Core is 23% lighter than standard cores, so every stride is quicker. Glu-Thane™ in the wheel provides great grip, and Dura-Thane™ additive increases durability. 74A hardness only. Ideal for fast indoor play.

The Red Star MX hockey wheel features Red Star's patented GT Glu-thane Technology offering the player an incredible combination of grip and speed. Available in 74A only. Ideal for indoor play.
The Red Star Rocket-dt wheel is the ultimate outdoor wheel!Fast and durable! Available in a 84A.