Sonic Long Sleeved 6mm 608 Bearing Spacer Each

PRICE: $1.09

Lowest Price Guarantee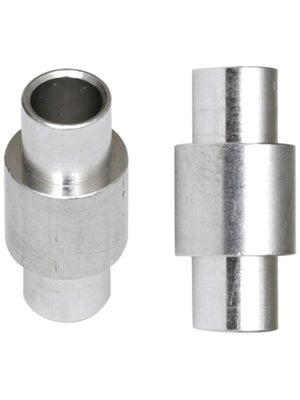 Replacement long sleeved bearing aluminum spacers. Bearing spacers precisely aligns bearings, wheel and axle to improve glide speed and free spin. Aluminum provides much better performance than plastic. Sized for 6mm axles and 608 bearings.
Long Sleeve Slides through Center of Bearings
MADE IN THE USA
Spacer Dimensions:
The sleeve portion on the "long" sleeved bearing spacer measures 5/16" in length on each side of the thicker middle section.
Bore fits 6mm axles
Benefits of Aluminum bearing spacers:
Precisely Aligns Bearing, Wheel & Axle to Improve Glide Speed & Free Spin
Aluminum Dissipates Heat & Maintains Shape Better Than Plastic
Minimizes Noise By Isolating Hub & Bearings From Axle
Sold individually.
Note: The standard long sleeved 608 bearing spacer won't fit the older Bauer and Nike Bauer branded skates. 2008 and earlier models have a unique larger diameter axle. The Sonic Extender Axle Kit will provide 8 axles and 8 bearing spacers that can be used on these Bauer skates. Since the heads on the Sonic axles are both round, one head won't fit in the recessed oblong hole on the Bauer frame, but it still works.
Comments: BIIG difference over stock spacers! Wheels go in and out of the track easier and spin better/longer right off the bat. Also, even though they're all made out of the same kind of aluminum (supposedly), these seem just a hair lighter. Definitely a must-have to get the most out of your bearings.
From: Gary, Atlanta, GA
Comments: Do the Job well, but order extras, they aren't indestructible, and don't last forever. After about a dozen bearing changes and cleanings, I find the spacers to be showing their age.
From: Curtis
Comments: Great spacers. Do their job well. A definite must for your skates!
From: Chris, NY
Other Items to Consider