SportStar Hockey Helmet Combo Award Decal Set

MSRP: $8.00

PRICE: $5.99
view large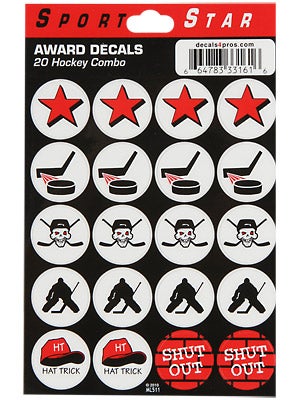 The SportStar Hockey Helmet Combo Award Decal Set is perfect for any coach. Award players at the end of a game for their achievemnts during play. Included in the pack are stickers for the all-star, the sniper, the bruiser, the goalie, and bonus hat trick and shutout stickers. These helmet decals are the same ones the NHL players use!
Comes with 20 decals:

4 All-star decals
4 Sniper decals
4 Bruiser decals
4 Goalie decals
2 Hat trick decals
2 Shut out decals

Each decal is 1" in diameter
Official decal company of the NHL
No feedback at this time.
Similar Items