Sonic Universal Extender 6mm Round Inline Axle Kit (8)

PRICE: $18.95

Lowest Price Guarantee
view large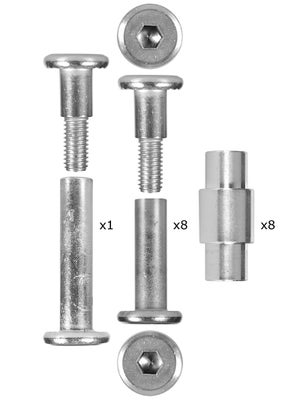 This great axle kit has 6mm axles and long sleeved bearing spacers for use with 608 bearings. Being an extender axle, it fits a wide array of brands whether hockey, fitness or aggressive skates. So if using a 6mm axle and having a hard time looking for one under your brand name, this kit can likely bail you out.
Eight 6mm Axles
1 Longer 6mm Axle (Brake)
8 Sleeved Bearing Spacers
Two-piece axles
Roces, K2, Bladerunner and other brands using 6mm axles are able to get by using this 6mm axle to replace lost axles, or remove brakes.
Replacement axle and bearing spacer kit features:
8 - 6mm upgraded solid steel axles
8 - aluminum long sleeved bearing spacers
1 brake axle bolt
Universal axle kit features standard 6mm diameter bolts that fit various width frames
Partially thread the bolt to fit wide frames and thread it completely to fit narrow frames
Bombproof - bolts thread together in wheel center where stress is minimal
Fits many frames on hockey, fitness and aggressive brands using 6mm axles
DOES NOT work for one-piece axle frames. These are two-piece axles.
DOES NOT work on the Roces S204 model skates - They use 5mm axles.
Other Items to Consider