STIGA NHL Stanley Cup Hockey Games

PRICE: $99.99

Lowest Price Guarantee
view large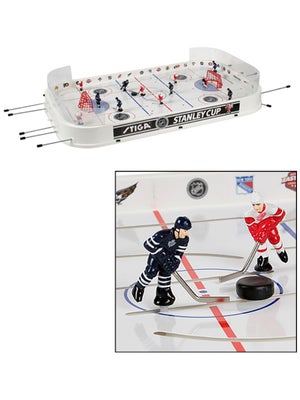 The STIGA NHL Stanley Cup Hockey Game is a 3-dimensional, active hockey game!
This table hockey game allows players to control the hockey players by pulling and turning the rods. Endless hours of fun for the entire family!
The game is available in 3 different team combos:
NY Rangers vs. Boston Bruins
Detroit Red Wings vs. Toronto Maple Leafs (as seen in image)
USA vs. Canada
Shipping Note: Cannot ship via Postal Service or Express Mail.
Due to the size of this item it must be shipped by itself. To expedite your order, please order this item separately. This purchase amount doesn't count toward the amount to earn free shipping on other items.
Ground shipping is only $9.75 for this item. No Oversized shipping charges and no handling charges.
Each game includes:
2 Pucks
Puck Ejectors
Plexi Shields behind the net
Goal Counters
Size: 35" x 19"
Players are interchangeable - See below for more NHL and international teams.
Comments: Stiga NHL hockey game is a blast to play! It's fast! Very fun and exciting way to spend time with family or friends. Product quality is good, just have to be careful not to bend the rods. Player figures are 3D and very detailed, makes it even more realistic. Highly recommend!
From: Pavel, Everett, WA
Stiga Table Hockey Games and Accessories