SportWrite Hockey Coaches Board 29"x16"

PRICE: $39.99

Lowest Price Guarantee
view large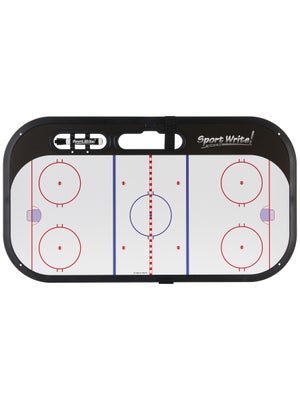 The nicest coaches dry erase board available! Large, oversized format with 2 writing sides. Comes complete with adjustable hanging hook.
Model #: CLASSIC Ice Hockey (HOCKEY-HSET)
Size: 29" X 16"
Dry Erase board
Large format enables the entire team to see the play
Two writing surfaces - The back side is great for team line-ups and other team communication
Adjustable J hook allows the board to be easily hung
The handle combined with overall light weight makes transportation a breeze
Sides are encased in a rubber molding
Great pen clip with premium dry erase marker
Manufactured by Sport Write - Coaching tools
Produced in the US with first quality materials
Size: 29.3" x 16.5" x .31"
Other Items to Consider
Similar Items
Sport Write Coaching Tools