SportWrite Hockey Coaches Board 16.5"x12.5"

PRICE: $22.99

Lowest Price Guarantee
view large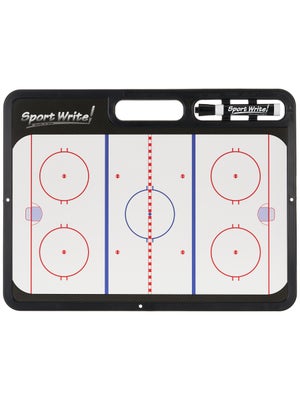 The Sport Write Hockey Coaches board is the perfect board for the coach looking for perfection. The board offers an oversized format with 2 writing sides. Rink diagram makes it easy to communicate the game plan to the players.
Model #: PRO Ice Hockey (PRO-PHOC)
Size: 16.5" x 12.5"
Dry Erase Board
2 writing surfaces

Front side - Full rink surface, enables entire team to see the play
Back side - Half rink surface for a more detailed play set up with your defenders or forwards. Also has a note section, great for setting up the lines before the game

Handle - Makes transporting easy
Sides are encased in a rubber molding - Added durability
Great pen clip with premium dry erase marker
Manufactured by Sport Write - Coaching tools
Produced in the US with first quality materials
Size: 16.5" x 12.5"
Comments: I have used my board now for 3 seasons and I don't know what I would do without it. Being able to provide a visual image for my players on where to be or what routes to skate so on and so forth. It also provides a zone and side note area on the back which is very convenient and helpful for defense zone coverages or Powerplay formations. Been really happy with my board and will probably get a new one soon do to all the use and wear and tear.
From: Connor, Queensbury, NY
Comments: I use this for coaching youth leagues. I regularly take notes on the back and it's a perfect size!
From: Erica - Team IW

Comments: This board is convenient for use on the bench. Having both the full-ice and half-ice diagrams helps me break down defensive set ups and offensive breakouts and attacks in a less confusing way to my young players. Having the dry-erase marker holder is another plus. The carrying handle is useful when my hands are full carrying water bottles and the puck bag to the bench. While its not a full-size board, it's still big enough for the players to see in my locker room talks. This board is a useful product and not too expensive. I recommend it.
From: Bob, FL

Comments: Play in a league where newbies are encouraged to play the veteran skaters. This product has really helped me keep everyone on the same page. Love it. Team easily a goal per game better.
From: Andrew, Harrisburg, Pennsylvania
Other Items to Consider
Similar Items
Sport Write Coaching Tools