Reebok Edge SX100 Ice Socks Navy Sr & Int

PRICE: $22.99

Lowest Price Guarantee
view large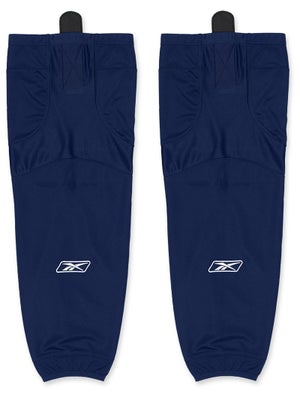 The Reebok Edge Ice Hockey Sock is the official sock used in the NHL. The Reebok SX100 sock features mesh inserts, sewn on Velcro attachment, and an ankle bubble to secure shin guards. Combine the Reebok Edge Sock with the Reebok Edge Jersey for a pro look.
Model: SX100
Sizes: length measurement
Intermediate 26 7/8"
Senior 30"
Materials:

100% polyester wave-knit

Look and feel of the Reebok Edge NHL jerseys

ULTRA FRESH antibacterial treatment

Design:

Sewn-on Velcro attachment
Mesh inserts provide ventilation
Ankle bubble secures shin guards
Stitched Reebok Vector logo

Fit:

Performance fit hockey sock
Comments: These socks are great, if you're not a giant. I'm a 6'4" 250lb skater. If you've got super long legs, you're going to find the backs of the socks pulling down the backside of your leg. Not a huge
deal, but annoying. But if you don't mind taping above your knee, it's a non issue. They do tear easily. 2 separate pairs had small holes in them by the end of 2 or 3 games. The good news there is that the holes don't seem to expand too much, as I have continued play with them for 1 or 2 seasons now and they have still been usable. These are good for weekend warriors... Not daily use.
From: Joe
Other Items to Consider
Similar Items
Reebok Edge SX100 Ice Hockey Socks Sr & Int