Bauer TUUK Lightspeed 2 Steel Runners Senior (Pr)

PRICE: $54.99

Free Shipping!

Lowest Price Guarantee
view large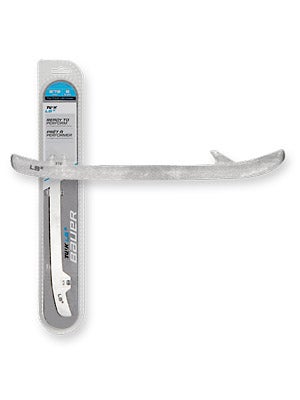 The Bauer Tuuk Lightspeed 2 runner is the standard replacement runners available for the Lightspeed 2 holder. The Tuuk Lightspeed 2 runners are sold in pairs and featured on most skates.
The Tuuk Lightspeed 2 runners are also referred to as Tuuk LS2 runners.
Model Number: 1033593
Bauer General Sizing Guidelines


Size / Length / Compatible Skate Sizes


Sr. 6 / 254 / 6.0D-6.5D (5.5EE-6.0EE)
Sr. 7 / 263 / 7.0D-7.5D (6.5EE-7.0EE)
Sr. 8 / 272 / 8.0D-8.5D (7.5EE-8.0EE)
Sr. 9 / 280 / 9.0D-8.5D (8.5EE-9.0EE)
Sr. 10 / 288 / 10.0D-10.5D (9.5EE-10.0EE)
Sr. 11 / 296 / 11.0D-11.5D (10.5EE-11.0EE)
Sr. 12 / 306 / 12.0D (11.5EE-12.0EE)
Not for 2013 Vapor Skates with Tuuk LightSpeed Edge Holders
Replacement steel for Lightspeed 2 holder
Works with Tuuk LightSpeed Runners that ARE NOT "EDGE" Holders

Edge Runners & Holders are found on 2013 Vapor Skates (APX2, X100, X90, X80, X70 and X60)

Stainless blade holds a sharp edge and cuts into the ice
Gives the ability to make sharp turns and quick stops and starts
These runners are sold in pairs
Senior sizes 6-12
It's always a good idea to carry in your bag an extra set of runners so you never miss a shift. Check out Bauer's Tuuk Lightspeed Service and Travel Kit for a convenient storage case that will save your bag and preserve your runners.
Other Items to Consider
Bauer Ice Hockey Skate Accessories